The Hancock-Henderson Quill, Inc.
---
A Wild Wonderful Rocky Mountain Climb
For West Central Junior, Kristen Wolf
Kristin Wolf, a junior at West Central High School, recently met a personal goal of climbing to the summit of Long's Peak in Colorado.
Only 3 out of 10 climbers make it to the top, but many people climb it every day during the summer months!
At an elevation of 14,259 feet, Long's Peak is considered to be the monarch of the Front Range. It is the only fourteener in Rocky Mountain National Park. The mountain has one glacier named Mills Glacier.
There are several routes a climber can take to the summit of Long's Peak. Kristin took the Keyhole Route which is sixteen miles from the trailhead to the summit and back.
The Keyhole Route ascends the north and west sides of the mountain and can be one of the more dangerous and difficult routes up any fourteener.
It is about a 5000 foot elevation gain from the trailhead to the summit. On average, 2 people die each year from lightning strikes, high winds blowing climbers off ledges, rock falls, and exposure to the elements while attempting to climb Long's Peak.
Long's Peak has been used, in the past, as training climbs for potential Mount Everest climbers. Even the easiest route up Long's Peak requires scrambling over slick rocks along sheer cliffs.
Kristin's story:
I've been going to YMCA of the Rockies/Camp Chief Ouray near Granby/Winter Park, Colorado since the summer after 4th grade. The first few years I went to traditional camp, but I found myself wanting to step out there and do more things!
YMCA Camp of the Rockies offers other wilderness camps in addition to traditional camps. After a few years, I decided to try some of the different wilderness camps offered.
One summer I whitewater rafted the Upper Colorado River for a week, setting up camps in different spots along the river every night.
Two summers I backpacked through Rocky Mountain National park for a week each time. It was after the first summer of backpacking in 2010 that I decided that I really wanted to do the Long's Peak climb.
I remember looking at Long's Peak and thinking to myself that if I could ever climb that mountain, that I could do anything!
That summer we climbed to the top of Flattop Mountain along the Continental Divide (elevation 12,324 feet) in Rocky Mountain National Park as well as to a beautiful place called Bear Lake.
Then last summer I also backpacked through Rocky Mountain National Park for a week, but it was earlier in the summer and there was still a lot of snow.
We didn't make it to the top of Flattop because the snow was way too deep for the gear that we had, but we still did a lot of backpacking and had a lot of fun!
I decided then that I would attempt Long's Peak this summer rather than wait longer, thinking that it might take a few tries before I actually made it. My goal was to make it to the top by the time I turned eighteen.
Backpacking to different locations every night is really fun! We have to carry along bear barrels to put all of our food and garbage in whenever we're not using it.
We have to carry all supplies needed for the week. We also have to carry all of the garbage-Leave No Trace Behind. There are black bears in RMNP along with a lot of other wildlife like moose, cougars, elk, bighorn sheep, coyotes, beaver, marmots, mule deer, eagles, and hawks.
During one of our nights camping a few years ago, we had to evacuate quickly because a cougar had been spotted nearby by scouts. Even though there are cougars and bears in the area, the animals that you have to be the most careful about are moose. They can actually run very fast and the females are extremely protective of their young. Moose is actually the animal they warn us about the most!
I love watching wildlife in their natural habitat.
To prepare for this summer's climb, I spent time lifting weights, swimming, and running. I knew that the high elevation could be an issue for someone from the Midwest like me.
The first summer I went to camp in Colorado, I did have a little bit of an issue with altitude sickness. That was the only time I've ever had a problem, though. I found out what to do to avoid it which is to drink LOTS of water! Mentally, a person has to struggle with fear of heights. When you're up at that kind of an elevation with such sheer drop-offs, it can mess with your head! The biggest struggle comes from inside. You have to trust yourself!
The last several summers, I have been going to wilderness camp with my friend, Ellie. Ellie and I met at camp and she is from Colorado.
We were supposed to go on this climb together, but her family had a vacation planned to Costa Rica, so she was unable to go this year.
Ellie and I have had a lot of fun over the years on our adventures! We have been a force to be reckoned with on the high ropes courses!
The wilderness camps are usually small groups, so we all get to know each other really well. This year I climbed with three other girls and five guys.
Most are from Colorado, but one is from Chicago and the other is from Virginia.
My group and I began the actual climb to Long's Peak summit at 11 p.m. on Wednesday, August 8.
At that time, I admit that I was scared. I wondered if I could make it to the top, but I knew that I wouldn't give up. I worried about the possibility of dying and I knew that I had to be careful and trust myself.
The only thing holding me back was my brain telling me that I couldn't make it, but my heart told me that I could! We dressed in layers so that we were prepared for whatever weather came our way.
We divvied up the supplies we needed for the day and left the rest of our things at our base camp. In my frame backpack, I had my camera, 64 ounces of water, a skillet, a spatula, some of the food, rain gear, sunscreen, and chapstick.
I also had stuff for blisters because, even though my hiking boots are worn in and fit well, feet still take the brunt of the climb. You have to take excellent care of your feet to have any hope of making it to the top!
The goal was to get to the top early so we could descend to a safe elevation before the daily afternoon thunderstorms began. This is why we left at 11 p.m. (While this time of year is the best time of year for making it to the summit, it is also monsoon season in the Rockies!)
Wearing headlamps, we climbed all night, making it to the top just as the sun came up over the Plains. It took about six hours to make it to the summit. Climbing with headlamps can be tricky as you can't look directly into the faces of your friends.
You risk blinding them with your light which could cause a serious accident. Our group was the only group on the mountain at that time of night!
At the trailhead, the trail leads through forests of pine, fir, and spruce. Then subalpine fir replaces the pine. Soon after the forest becomes Krummholz (twisted wood) elfin groves. Once above timberline, you are on pure tundra.
The difficult terrain begins at the Boulder Field. After scrambling over boulders, you reach the Keyhole which joins together Storm Peak and Long's Peak.
Here it gets serious very quickly. You see some serious views. There is serious exposure. And serious elevation gain from this point forward. At the Keyhole's entrance, there is a stone hut in memory of Agnes Valle, a woman who accomplished the first ever winter ascent of the East Face of Long's Peak in January 1925, but was caught in a storm on her descent of the mountain and froze to death.
Once you climb through the Keyhole, you see a gorgeous backdrop of thirteeners. You follow the painted bull's-eye targets on the boulders while scrambling along narrow ledges and granite slabs, many of which have nearly sheer cliffs of 1000 feet just off the edge.
This area is known as the Ledges and is about as wide as a sidewalk. At this point, after climbing through the famous Keyhole and stepping onto the Ledges, I remember thinking, "Oh, my gosh!
I can't believe I'm doing this! Look how far I've come!" We all knew that from here on out, if we made even one slip, we could be goners.
After the Ledges, you climb about 600 vertical feet up the Trough, also known as the Stairway to Heaven.
At this point, the elevation is above 13,000 feet. You climb over chunks of granite at a 35 degree incline. Breathing is murder and you have to stop constantly to breathe! To me, the Trough is the most difficult part of the climb.
It is steep and full of loose rock. You have to be careful of falling rocks that other climbers might knock loose. You also have to take special care so that you don't knock any rocks down on climbers below you.
The Trough funnels you up to an area known as the Narrows. The Narrows is the most exposed portion of the climb.
By the time you reach the Narrows, even talking is very difficult. About all anyone can say is, "Wow!" There are sheer drop-offs like you can't imagine.
At this point, you are going up a 45 degree incline. You can stand in places of the Narrows, but ascending is done mostly by crawling at this point.
Just beyond the Narrows is the Notch, which is the beginning of the Homestretch-almost there! Some people have major problems breathing at this point, but it was actually my arms that hurt because it was so steep and I had to use my arms to pull myself up.
Once you make it to the Homestretch, it is a steep climb to the football field sized summit. The Homestretch was a more difficult part of the climb for me personally.
It's so steep and scary if you look down. You're so close to the top, but it's so hard to go that last part of the way to the top!
Once on the summit, even walking around slowly makes you breathe harder even though it is almost flat. I felt totally empowered-more empowered than I have ever felt before! I felt better than I've ever felt in my life!
My excitement was over the top! Not to mention that the views are incredible. You can see Storm Peak, Mount Meeker, the Continental Divide, Wild Basin, the East Face, Chasm Lake, and Peacock Pool, to name a few.
We fixed a breakfast of pancakes topped with M&Ms on top of Long's Peak! While at the summit, we met and visited with a guy in the military. He was dressed in camouflage and had his military branch flag. We took his picture for him. That was really cool! He was so proud and said that his employer actually paid for his climb because of his military service!
The descent is just as breathtaking! It is very steep. You go down in a crab-crawl position, hoping that you don't slip on the flat granite slabs!
Again, we all worried that we might fall. On the way up, it was dark so we couldn't totally see how dangerous it actually was, but on the way down, we could see everything!
We met many people on our descent while they were on their way to the top. Everyone we met was so nice and everyone encouraged everyone!
On the way down, all you can see is how far you will fall if you slip, and you know that it won't be good if you do slip. All parts of the climb on both the ascent and the descent are scary and thrilling, but being scared is part of the challenge that I love!
This climb was all that I thought it would be, and more!
I learned a lot about myself this summer. I learned to keep going even when it's hard! Whatever challenge you are facing, break it down into steps.
Climbing Long's Peak is probably a step or two outside anyone's comfort zone, but, for me, I just trusted myself and kept my focus on what I wanted! I knew that I had done everything I could to prepare.
I knew that I was ready! I've always loved to push my limits physically, especially in nature!
What's next for me? I know that I want to climb Long's Peak again someday! I also want to push my limits further by climbing other fourteeners!
Legendary British climber George Mallory was asked, "Why do you climb the mountain?" He replied, "Because it's there!" I agree!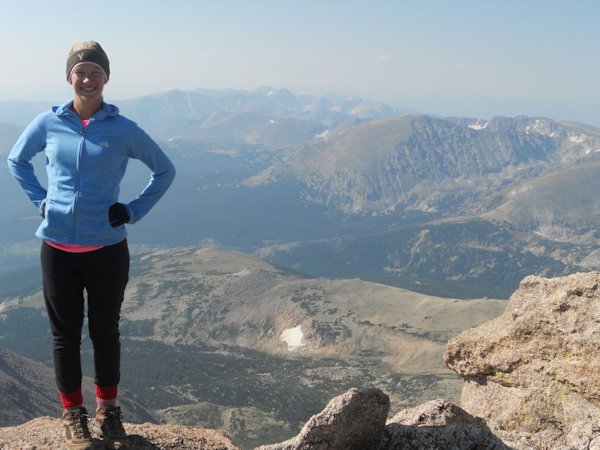 Kristen Wolf 16, of rural Biggsville, is finally able to reach her personal goal of climbing to the summit of Longs Peak in Colorado.
---