The Hancock-Henderson Quill, Inc.
---
Meet Your Neighbor
by Susan Galbraith, The Quill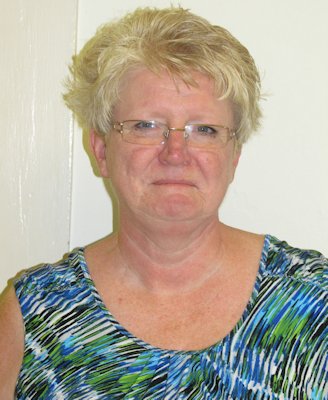 Meet Your Neighbor Sheila Forbes of rural Media. Sheila has been employed for 3 years as a clerk at the Henderson County Assessor's office in Oquawka.
She previously was employed for 14 years at Pro Source One in Galesburg.
She was born and raised in Abingdon, and in 1971 Sheila graduated from Abingdon High School, and then attended Carl Sandburg College, Galesburg and Western Illinois University, Macomb.
Sheila and hubby, Hugh, have been married for 3 years. Hugh is a farmer. Her parents are Bill and Darla Dwyer.
She has two brothers, Larry (Debbie) Dwyer of Abingdon and Andy (Marsha) Dwyer of Toulon. A sister, Susan Dwyer, lives in Abingdon.
Sheila was married to Paul Shumard for 26 years before he passed away.
They have two children. Tamara (Darrin ) Shull of Galesburg. Tamara is employed by Dick Blick and Darrin at Hy-Vee.
Another daughter, Sarah Shumard and friend Eric Granzow, live in Omaha, Nebraska where Sarah is an accountant.
Hugh and his former wife, (Darlene who passed away), were married for many years.
Sheila has two step-children, Jeff (Krista) Forbes of Terre Haute. Jeff is a farmer/state worker and Krista is an RN at Great River Medical Center in West Burlington, Iowa. Jennifer (Rene') Haynes lives in Englewood Colorado. Jennifer is an attorney and Rene' is a baseball scout.
They have 7 grandchildren. Tryvar Shull, Garreth Shull, Tara and Joshua Forbes, Jackson Limmerman and Hayden Forbes and Delani Haynes.
For enjoyment Sheila reads, and travels. She and Hugh show antique cars and tractors. Recently they attended the Red Power Roundup in DuQuoin with their antique tractors. When asked what she enjoyed about working in the assessor's office she replied, "I enjoy seeing people and helping them with their exemption forms."
She is treasurer of the Old Tymers Tractor Club, Chapter 10 Tractor Club, Media Township Clerk and a member of Henderson County Reads.
---