The Hancock-Henderson Quill, Inc.
---
Kralovec Enjoys Biking from Oregon To La Harpe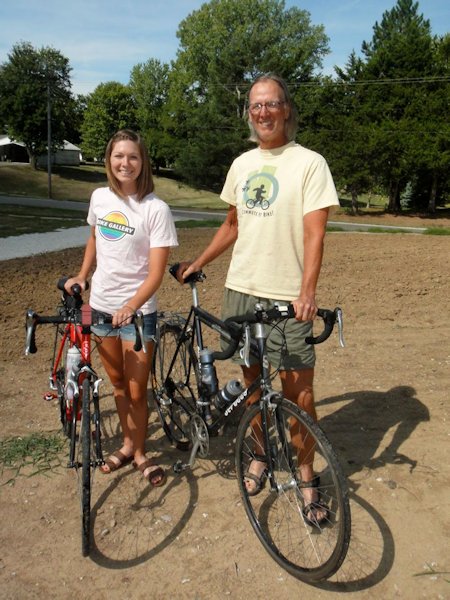 Charles Kralovec, and his 21 year old daughter Anna have been anxious for this bike trip for some time now, a trip that took them from Canby, Oregon (south of Portland) across five states, all the way back to his hometown of La Harpe, a place Anna or her mother had never seen.
For Charlie, it was a trip he had wanted to repeat since he was 22 and a college student in the University of Oregon. At that time, he surprised his parents by spending a $190 on a bicycle (the same price as one college term in Oregon) and then riding for 18 days to make the trip across five states back home. After retiring as a school teacher, Charlie has planned to repeat the adventure at the age of 60 and in the same 18 days as before. It was a bonus that one of his three daughters was able join him and together reach his goal.
It was a good feeling for the Kralovecs to meet their goals, but it came with some preparation and experience. Charlie's wife, Sandy, drove to La Harpe to greet them and then, take them back home.
They were glad they missed the 100 plus weather and really enjoyed the adventure along the way.
Sandy, who arrived a couple hours a head of time, was surprised, she said, that she could drive through town in less than 10 minutes, she posted on Facebook.
Their hometown of Camby is a large city south of Portland and about a 100 miles of biking to get to the Atlantic Ocean.
The family was invited to stay with Mark and Barb Finch who they said were great hosts for the few days they stayed in La Harpe.
They were also able to go to Barry and Joanna Wrights for a get-together with classmates and friends one evening before they returned to Oregon.
More details of their stay in La Harpe will be in next week's Quill
---