The Hancock-Henderson Quill, Inc.

---
Meet Your Neighbor
by Christy Kienast-The Quill and Tyler Sharpe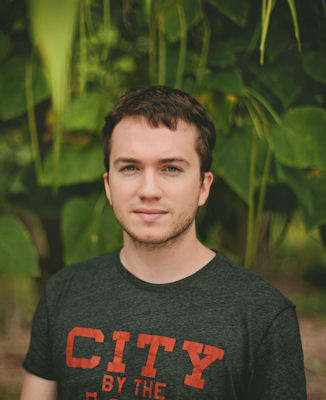 Meet your neighbor, Tyler Huston Sharpe of La Harpe, where he lives with his roommates (parents).
Tyler was born on April 27, 1989 to Ted and Terri (Collins) Sharpe, and was raised in the home he lives in now, across the street from Casey's General Store on Main Street.
He graduated from La Harpe High School Class of 2007, the last graduating class from La Harpe, and from Western Illinois University with a Bachelor of Arts in Graphic Design in May 2012.
Dad, "Ted" works for the Western Area Purchasing Coop, distributing school goods to the surrounding ROEs. Mom, "Terri" works as housewife and spends her time keeping Ted in line and Tyler happy. Tyler says "They are the best parents in the world!"
Tyler is a Graphic Designer for Hughes Design LLC. It's a stay at home job, providing him with time to pursue his other profession- photography.
He has been a freelance photographer for 5 years now and hopes to start a real business this fall with his Fiancˇ, Natalie Walker. They will specialize in Wedding, Senior, and Family Photography with a Fine Art and Documentary appeal.
His past endeavors include working in the Wal-Mart Meat Department, as a Graphic Design & Multimedia designer for WIU Campus Recreation, and an intern at the famous Hatch Show Print in Nashville, Tennessee. The Hatch Show Print is a 200 year old letterpress print shop running posters, and products for the biggest Country stars in the business.
Tyler is engaged to Natalie Walker from Watseka, IL and they attended WIU together where they met in Art History class. The two continued their courses together in the Art Department while Natalie received her degree in Art Education. Natalie will finish up school in the spring, and in the mean - time is pursuing a photography career with Tyler.
While the duo currently has no children, they gregariously have thought up names for their future kiddos: Billy, for a girl and Freddy, for a boy. He says, "Take it for what it's worth...we're goofy."
Tyler has one sister Melanie, 33 and a brother, Jack (29). Jack resides in Houston, Texas and is beginning a career in steel resale.
Melanie lives in Macomb with her husband, Brad Wetzel. She is working on her Masters' Degree in Psychological Counseling while feeding a household of at least 8 persons per night.
Between Brad and herself, they have 8 children and are currently moving to La Harpe to the home Grandma and Grandpa Sharpe lived in for many years.
Tyler's' grandparents on the Sharpe side were Marybell (Bradshaw) and Jack Sharpe.
Grandma Sharpe was actually there at the beginning of the Quill and before that, "The La Harper". Her father, Tyler's Great Grandpa Harry Bradshaw went into business with his two sons, Byers and Bill, and Boyd Campbell to take ownership of the newspaper at the turn of the century. Marybell had a daily role in helping the newspaper run, including operation of the Linotype machine with Tyler's' great aunt Lois.
Grandpa Jack grew up farming and had a prominent role in the community. He was even the mayor for a number of years. Tyler remembers his grandfather mowing the park lawn and going on walks with 3 cats following behind. Both Marybell and Jack passed away a few years ago, but Tyler will always remember them as "Ma and Papa."
Grandpa Rex Collins, was also a farmer in the Macomb area, but passed away from cancer a few years ago. Tyler says, "You wouldn't know a more comforting soul then Grandpa Rex's. "
Tyler's Grandma Ann Collins is still alive. Tyler says, "She is one of the strongest women I know." Grandma Collins has had a life and career in piano. She was the music chair at WIU for years and is still extremely active in the community. Tyler believes she is one of the biggest supporters of his endeavors.
Tyler has loved to draw ever since he was a kid. He always drew people and ironically, his favorite thing to photograph is also people.
He loves his job as a graphic designer and photographer and would do it regardless of whether or not he got paid. Tyler believes that's when you know you are on the right path.
He also has a great love for movies and films. He is one of those people that can probably carry on a conversation strictly in movie quotes.
Tyler was the designer of the Illini West Charger logo in 2007, received a number of grants and tuition waivers for his work in the Art Program at Western, earned Department Scholar his senior year, and had an oil painting in 2011 that earned first place at an exhibit in Macomb.
Tyler has also written and illustrated an educational book about the history of the Fanny Pack which received a lot of attention at a gallery in Iowa.
Tyler's favorite vacation was to Panama City with his fiancˇ and two of their friends last year. It was his first time seeing the ocean.
Tyler likes to say now that he lived through the Last Days of La Harpe Elementary. He has created a group on Facebook for people to share their memories of the school; that has now reached over 1000 members. That was a proud moment for him as well as being able to photograph the interior of the building before demolition began. Being able to make t-shirts with the building on them was the cherry on top.
Check them out at http://www.laharpeelementary.deco-apparel.com/home
Tyler is currently doing volunteer work for "One Family One Purpose", a non-profit disaster relief organization committed to help spreading the love of God. He is producing a video for it now and just updated their logo. You can check it out at: http://www.onefamilyhomepurpose.com
Tyler is very proud of the town that he grew up in and the family that he comes from. La Harpe and the surrounding towns have generated the best people he knows.
He will always cherish the friends and memories he has made in the La Harpe community.
---