The Hancock-Henderson Quill, Inc.
---
Meet Your Neighbor
by Christy Kienast-The Quill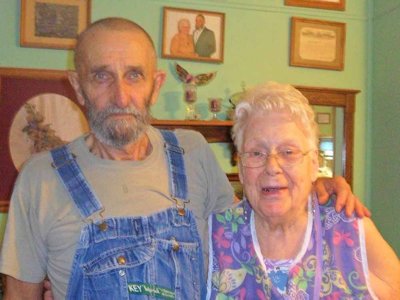 Meet your neighbors, Harley and Shirley (Rusty) Palmer of La Harpe.
Harley and Rusty (as she is better known as) have been married for 56 years.
Harley was born in Downing, Missouri in 1935 to Luel and Lillian Palmer. He had one sister, Lois and two brothers, Hollis and Boyd, all deceased.
The family moved to Terre Haute in 1941 and moved several times before Harley graduated high school in 1954. He went into the Navy after high school.
Rusty was born in Santa Fe Springs, California in 1924 to Perry and Velda Compton. She had one brother, Raymond who is now deceased. She also had a sister that passed away at the age of 6. Rusty had five children, Darlene, Raymond, Lee, Dee and Michael.
Harley and Rusty were married on May 18, 1956. The family moved back to La Harpe in 1956. Harley worked for Jim Stevenson and Jacob T. Well for 3 years. The family moved back to California in 1959.
Harley worked as an auto mechanic for Rambler, Datson Garages until 1962.
Harley and Rusty have one daughter, Cindy Lue who was born in 1960 in Long Beach, California. Cindy now lives in Stronghurst.
The family moved back to La Harpe in 1962 and bought the Standard Station, which they ran until 1964. At which time they moved back to California where Harley worked as a mechanic until 1985.
Harley and Rusty moved to Alaska, where Harley worked in an independent garage for 7 years. During this time, they built their own home and sold it in 1992 and moved back to La Harpe.
Harley worked for Palmer's Sales and Service until 2003 when he retired.
---