The Hancock-Henderson Quill, Inc.
---
Meet Your Neighbor
by Ali Postle, The Quill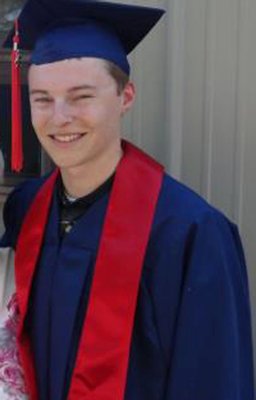 Meet Your Neighbor Austin Bigger.
Austin is a 2012 graduate from West Central High School.
He was born on May 21, 1994, and he has lived in Oquawka his whole life.
Austin's parents are Cindy (John) Fedler of Oquawka and Phillip (Sarah) Bigger of Biggsville.
Cindy works at Mt. Pleasant Mental Health Institute in Mt. Pleasant, Iowa.
Phillip works at Lock and Dam 17. Austin has two brothers, Nate who is 10, and Bryce who is 7. They both attend West Central Elementary School.
He also has a step brother, Nick Fedler who attends Southeastern Community College (SCC) in West Burlington, IA.
Austin has been employed at Shopko in Monmouth for 2 years. He plans on working there all through college.
In his spare time, Austin loves to play video games, hang out with his friends and his family.
In high school, Austin participated in many activities including; Golf, Basketball, Football, Basketball, and Student Council.
Austin plans to attend Southeastern Community College (SCC) in West Burlington, Iowa in the fall and then continue his education to get his PhD in Psychology.
He wants to open his own practice so make sure to look him up when you need help!
His most memorable vacation is going to the Current River in the Ozarks of southern Missouri every year with his family and friends.
The Current River contains the world's largest concentration of first magnitude springs, making it a favorite for floating. Due to the large armounts of cold spring water contributing to the river, a unique enviornment, watercress and other cold water flora and fauna thrive there, even in the subtropical climate.
Austin, his family and friends, always have a blast.
---