The Hancock-Henderson Quill, Inc.

---
They Rumbled Into La Harpe for the 14th Annual Classic Car Show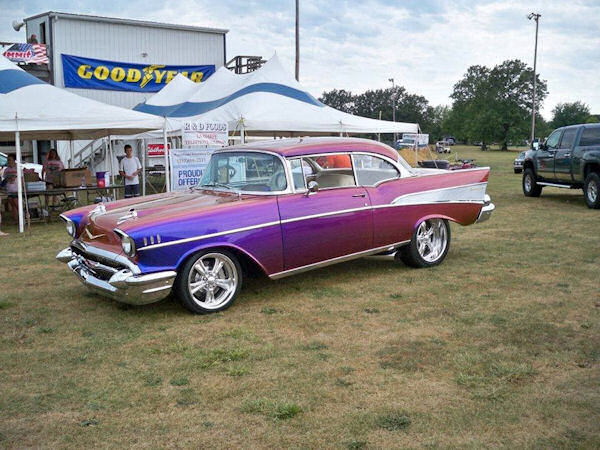 The 14th Annual La Harpe Classic Car Show Reunion, "Rumble on Route 9," was held Saturday, August 4 at the park district grounds in La Harpe. An impressive opening ceremony was conducted by the Boy Scouts and others with all veterans invited to come forward, as the American and POW/MIA flags were hoisted with veterans saluting and a field of patriots at attention with hands over their hearts.
Rev. Bruce Goettsche gave the opening prayer followed by Melissa Burt singing the National Anthem. There was a moment of silence in remembrance of Bob Blum, an avid car show enthusiast from Iowa.
Some 300 plus vehicles were represented from the states of Texas, Florida, Michigan, Missouri, Iowa, Indiana, Georgia, Kentucky, Wisconsin and Illinois. People enjoyed seeing and hearing the 1968 Kirby funny car brought to the show by Bill Porterfield of Michigan.
Approximately 200 trophies were awarded at the show including: Best of Show-Kenny Ball from Kahoka MO, 1957 Chevy Belair; Best Mopar-Judy Crain from Altona IL, 1966 Dodge Charger; Best Ford-Norm Stupavsky from Quincy IL, 1955 Ford Crown Victoria and Best GM-Nick Simmons from Victor IA, 1969 Chevy Camaro.
The Golden Rule Club, Girl Scouts and various other vendors kept busy with making foods available for the crowd. In the Kid's Corner, face painters were creating artwork on little cheeks and a coloring contest was a big hit with the youngsters.
The Hot Rod Grill went to Hull IL and as a result of the raffle, a donation to the Great River Honor Flight will be presented at a later date. The 50/50 Drawing was a big success and the winner donated a portion back to the show.
The Ambulance crew and Fire Department were on call for emergencies, and Emergency Services gave use of an air conditioned tent, while Palmer Auto Sales and Service were on stand-by for any help needed. Dave Hobby did the announcing, and at the show were KBUR-Burlington, WCAZ-Carthage and WGEM-TV Channel 10-Quincy as well as the Quill newspaper reporter.
Sponsors donating generously make the show possible along with organizers Ken Brown, Bob Lionberger, Darrell Kraft and Jerry Burford, the 38 volunteers along with each participant who brings their own unique ride and story to the show to make this such a successful and fun event.
---