The Hancock-Henderson Quill, Inc.

---
Adventures In Leadership
BY:MIRIAM RUTZEN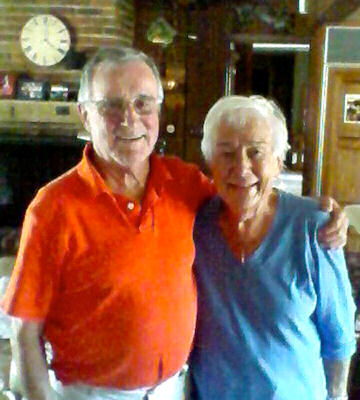 John Twomey
"I was born in 1923, at just about the right time because in 1932, in the depths of the Depression I was 9 years old:"
Mr. John Twomey's response to my question regarding his background started off with a sentence that as a young 20-something, I have a very hard time comprehending: born at just about the right time to experience that national crisis?
Mr. Twomey was at an extremely impressionable age during the Great Depression, and yet, he looks back on that time as teaching him many of the life lessons and work ethic values that have helped him to become such a successful business- and family-man.
The next few sentences that followed set the stage for quite the adventure Mr. Twomey was to have throughout his life:
":In those days you did not go to town except for supplies on Saturday night. We had an outhouse, a farm on a dirt road, lived with chickens, pigs, and gardened on the farm, and Mom canned enough food to get us through the winter. We walked to a one-room country school and in my opinion, got a better education because you are there from the time you are in 1st through 8th grade and you were able to hear [all of the older children] recite and do things on the blackboard.
"I did not feel like that was any disadvantage. We got electricity on the farm the year I started high school. After that, anything that you can do is an accomplishment in life; I have watched as we have gone uphill since then all the way to when they landed a man on the moon:"
Mr. Twomey has had the opportunity to watch our country and our community, grow, change, and develop since the 1920s. His perspective on leadership, and on life, come from the point of view of a man who grew up understanding hard times. Through hard work and continually meeting the needs of his community, Mr. John Twomey and his family have, and will continue to have, an extremely integral role in promoting the growth of our community.
Q: What does leadership mean to you?
A: Somebody always has to lead. So I guess it is what kind of leadership you have that is so important. You can hardly be a success in a business if you are not a good leader. For me, in the business, I just saw what needed to be done, would think about how to get it done, and how to rally our troops to get it done. I suppose it takes different kinds of leadership to get different kinds of things to work: if you are president of a college or leading a grain company you have to develop the right kind of leadership to make whatever endeavor it is work. Sometimes that can be accomplished unknowingly, subconsciously. Twomey Company started as a small business with just one location. West Central Illinois is such a great agricultural region, that by offering farm supply businesses or providing services for farmers we strived to meet that high demand, therefore capitalizing on lots of opportunity.
Q: To whom did you look to as a role model or leadership figure while growing up?
A: My dad was an extremely hard worker. He died at a younger age because he worked so hard. He struggled through the Depression to salvage things, dropped out of high school as a freshmen because his father passed away when he was fourteen years old, and helped his mother on the farm. With just a grade school education, he kept detailed records of the farming operation. Those things probably impacted my life a lot.
"Being a product of hard times probably helped mold me into realizing the value of hard work. Some people say I am a workaholic, and I inherited that from my father, so in that sense he would probably be my role model more so than anyone else. We are all kind of products of our environment.
Q: Can you tell me about your background and resume?
A: Attended Roseville High School, before going to Western Illinois State Teacher's College. Joined military service for two and half years, finishing at the end of World War II. Attended University of Illinois on his GI Bill, receiving a Bachelor of Science in Agriculture while also running track. (Tuition, room, and board cost $500 a year!) Spent three years traveling internationally and nationally running the 1500 meter run. Returned to farming business during that same time, while trying to run in the "off" seasons of farming. Ran in Finland, New Zealand, and Argentina to name a few places. In the Spring of 1951, after the first Pan-American Games, met his wife Mary, settled down, became a full time farmer, and then switched over to the grain elevator business.
[A note on the beginning of Twomey Company and the Twomey Foundation]
Over the years Twomey Company has grown into one of the largest country grain elevators in the world. "We only handled grain from actual farmers-just relationship between farmers and us-we all started out as farmers and just wanted to deal with farmers."
Grain elevators are scattered throughout Warren and Henderson County, with one small location just over into Mercer County. The river terminal allows for the stored grain to be moved directly on to barges without long waiting lines. The first load was put on a barge in June 1972 using a tractor auger over the edge of a steel piling: "You always have to walk before you run," Mr. Twomey added with a smile. Recently the Twomey family sold their company to Consolidated Grain and Barge, although they still remain a part of the business operations.
"The Twomey Foundation started just at the end of the Grain Reserve Time. Currently, we are approaching 20 years for having had the foundation. Our purpose was the grain reserve operation and our customers working in conjunction with that. It was a good time for the farmers and a good time for us: a time for us to say thank you to the community for making it possible to grow the way we did.
We started the foundation and built it up over time. We spent close to 20 years building our foundation and we like to help everybody that needs some help. Our primary interest is to help where it is needed most:Twomey Company is now under CGB, but that does not change Twomey Foundation. Twomey Foundation like most foundations is perpetual: if a foundation is able to retain its portfolio it lasts forever, unless abandoned or unless it loses all of its money with poor investments. If abandoned, then those monies have to be dispersed to charities."
Q: What are three things you would say to someone about life?
A: 1) I read something on a napkin the other day that was sure the truth, "You only live once, but that's enough if you live it right". 2) One of my favorite stories is that of the train station: that it is really not about the destination, but about all that you will see along the way. Do not worry about today; it is already tomorrow in Australia. Life is a journey. 3) If I have made a mistake on something or done something that may have bothered someone else, I like to clear the air and not let something stay and fester. It is good to keep things straightened up as you go along.
Robert J. Hastings concluded his piece called The Station with these words, which I think are appropriate for an interview with Mr. Twomey: "Relish the moment! "This is the day that the Lord hath made, we will rejoice and be glad in it' (Psalm 118:24). So stop pacing the aisles and counting the miles. Instead, kiss more babies, climb more mountains, count more stars. Go barefoot oftener. Eat more ice cream. Ride more merry-go-rounds. Watch more sunsets. Life must be lived as we go along."
---