The Hancock-Henderson Quill, Inc.

---
Meet Your Neighbor
by Christy Kienast-The Quill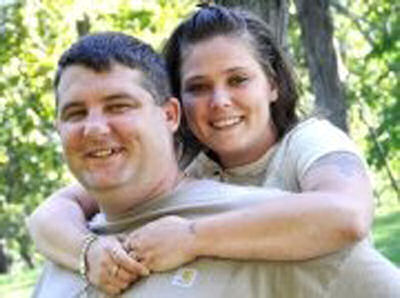 Meet your neighbors, Ryan and Melissa Sullivan of La Harpe. Ryan and Melissa were married on February 16th, 2010.
Ryan is the son of Bill and Sheryl Sullivan of Carthage and Melissa is the daughter of Pamela Riekeberg of Tennessee, and Charles Randall of West Point.
Melissa was born in Rushville and Ryan was born in Fort Madison, Iowa.
Melissa attended Macomb High School and Ryan attended Carthage High School. Melissa is a homemaker and Ryan has worked for BNSF for the last 7 years.
The couple have three children: Dakota, 12, Bryce, 11, and Alisha, 8 1/2. All of the children will attend La Harpe elementary school this fall.
Melissa has two sisters, Monita (Robert) Melendon of Bushnell and Shelly Randall of Quincy.
Ryan has three sisters, Shannon (Jared) Murphy, Rachel (Zak) Huston and Jennifer (Mark) Carlisle all of Carthage.
Melissa is the granddaughter of Charles and Donita Randell of Plymouth and Joe and Norma Kurtz of Macomb.
Ryan is the grandson of Robert and Dixie Wells of Texas, and Dona and Rita Sullivan of Hamilton.
Ryan served 6 years in the United States Army and 4 years in United States Marine Corps and served in two tours to Iraq.
Ryan's hobbies include hunting and fishing.
Melissa likes to do scrapbooking and photography.
The family has three dogs. Marley, Bailey are both Pugs and Riley, is a Maltese.
---