The Hancock-Henderson Quill, Inc.
---
Meet Your Neighbor
by Christy Kienast-The Quill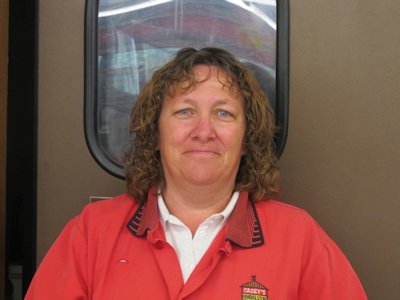 Meet your neighbor Doris Mapes of Ferris. Doris has been the manager of Casey's in La Harpe for the last 6 years. Before coming to La Harpe , Doris was the manager at the Casey's in Carthage for 7 years.
Doris is the daughter of Walter and Alice Leasman, both deceased. She has two brothers, Larry Leasman of Bowen and Danny Leasman of Quincy. Doris was born in Carthage and was raised in the La Harpe- Carthage area.
Doris graduated in 1982 from Carthage High School, although she did attend La Harpe schools until her eighth grade year.
Doris has been married to her husband, Brent for 5 years, celebrating their anniversary on June 1st.
Doris has 6 children. Lori Brown lives in Carthage, Justin Rampley lives in West Point, IL. Daughter Jessica Rampley lives in Liberty, Wesley Rampley lives in Park Hills, MO. Son, Steve Brown, Jr. lives in Ferris and son Mike Brown lives in Ft. Madison, Iowa. Doris also has 3 step daughters; Jessica Mapes lives in Keokuk, Ia, Sabra Mapes lives in Burlington, Ia, and SoRay Mapes lives in Carthage.
Before she worked at Casey's, Doris worked at Methode in Carthage for 6 years and prior to that she worked for Home Health for 6 years.
Doris loves to ride motorcycles and spend time with her eleven grandchildren.
---