The Hancock-Henderson Quill, Inc.
---
Meet Your Neighbor
by Ali Postle, The Quill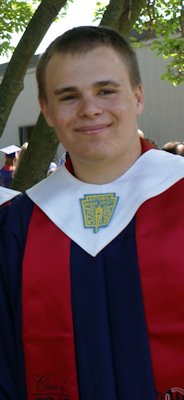 Meet Your Neighbor Ethan Bigger of Media.
Ethan is a recent graduate from West Central High School's Class of 2012.
Ethan was born in Galesburg on April 23, 1994. He is the son of Barry and Jody Bigger.
Barry is a farmer and The Media Township Road Commissioner, a Southern High School graduate and college graduate.
Jody is a seventh grade science teacher at Edward Stone Middle School in Burlington, IA, and a La Harpe High School graduate and college graduate.
Ethan has one sister, Sydney, 16, who attends West Central High School and will be a Junior this year.
Ethan has been employed at Riverland FS as a cashier for one year. He also works as a farmhand and a Port-A-Hut dealer.
Ethan's hobbies include hunting, fishing, reading, and riding ATV's.
Ethan was also very active in High School at West Central.
His activities included Future Farmers of America (FFA), Scholastic Bowl, National Honor Society (NHS), and teacher's assistant.
Ethan's future plans include attending Southern Illinois University in Carbondale. Once he is there, he will pursue a Bachelor's of Science Degree in Zoology with a focus on Wildlife Biology.
Ethan hopes to eventually work for National Geographic as a Field Agent.
Ethan's most memorable vacation was going to Nebraska for two weeks in the summer of 2008 and working on a ranch. He was 14 years of age and his first trip away from home. He had a blast.
---