The Hancock-Henderson Quill, Inc.
---
Coach Morrison and West Central Softball Team (13-1)Pitching some Heat in the Lincoln Trail Conference
by Dessa Rodeffer,
Quill Publisher-Owner
The West Central girls softball team this year has been pitching some Heat to their opponents, and staying on their defensive game, keeping them in 1st place in the Lincoln Trail Conference.
Seven Freshmen came into the high school this fall and signed up for WC softball bringing a good number of experienced players from summer leagues.
Many girls on the team practice continually throughout the year making quick responses, second nature.
This year their season began with a non-conference game at Galesburg high school which warmed up the Heat with a nice 5-1 win over the Lady Streaks.
WC Players for this year are:
7 FRESHMEN 2012
*denotes starters
*Kayla Droste-short/2nd
*Kylee Beilser-short/OF
*Maddy Brent-pitcher/1st
*Taylor Rice-2nd/OF
"Kat"Johnson-OF
Shawnee Hartman-OF
Amanda Cockran-3rd base
4 SOPHOMORES 2012
*Jenna Schaley-Pitch/1st
*Monica Brooks-3rd base
Catie Steck-Center front
Erin Cavanaugh-Outfield
4 JUNIORS 2012
*Alexis Ensminger-Pitch/Short
*Jessica Ditsworth-Catcher
Maddy Newberry-Ctr Field
Emily Hopping-Short/2nd
2 SENIORS 2012
Jennifer Brown-1st
Casey Hill- Ctr Field
Ten high school teams compete in the Lincoln Trail Conference, facing each other twice in 18 games, each hoping to become this year's conference champions.
But for now, the Heat is two games ahead of the pack with a 13-1 conference record, with only five conference games remaining.
The only loss has been to Annawan (1-0) played on April 17th after a hit ball, slid under the glove of a Heat outfielder in the 7th inning. It gave Annawan/Wetherfield ranking 2nd in the conference, their only score but they took the win with it.
West Central turned up the heat and was able to revenge the loss with a 9-2 win on April 19th.
Monday, The Heat beat last place Ridgewood (1-11) in five innings 11-1. Ridgewood's second game with the Heat is scheduled for this Thursday at West Central's "Stan Fisher" field in Stronghurst.
The Heat's last four scheduled conference games are:
Sat., April 28 United (7-3) at WC Stan Fisher field for a double header,
Tues.,May 1st away at Galva/Williamsfield (2-8),
Thurs., May 3rd at WC Stan Fisher field at Stronghurst with Galva/Williamsfield.
(The Heat is 15-3 overall and will be playing a non-conference make-up game with Abingdon in a double-header on Saturday at the Stan Fisher field/Stronghurst, and a non-conference game will be played on Monday, April 30th with West Hancock/Warsaw-Hamilton).
The Heat's two non-conference losses were to Illini West 2-4 and to Quincy Notre Dame 3-8.
Games are no-admission and fans are invited to come out and support The Heat.
After the last conference game, five teams (Abingdon, United, West Prairie, Bushnell-Avon, and West Central) will compete in the Regional State Tournament May 14-19 hosted by United.
Then May 23-26, four teams will play at Sectional in Abingdon, and two teams are sent on to compete at Super Sectional May 28.
The Super-Sectional winner will go to the state finals at EastSide Centre, in East Peoria and plays on June1-2.
Assistant coaches are John's wife Shelly and Scott Hopping of Galesburg whose daughter plays on the 2012 Heat softball team. Hopping gave up coaching in Galesburg to support his daughter.
Coach Morrison said, "Sophomore Stephanie Adams has injured her ankle, and Emily Hopping has a torn meniscus that will be undergoing surgery on May 1st.
"Hopefully, they recover strong in time for next season which should be another good year with no starters graduating."
Morrison creates the girls wins to a lot of experience playing, constant practicing, and lots of support.
"Hitting can come and go, but a strong consistent pitcher and a strong defense can win ballgames,"
"It takes a community - businesses and parents to make successful teams."
Morrison said a lot of coaches and parents have traveled with girls and teams to improve their ballplaying and to give them experience, and a lot of community members have financially given support to help improve the field. Morrison sold advertising to put in the back field and the money helped but the outfield fence, the foul line poles, limestone to go along the fence to help the runners see the fence when running.
COACH JOHN MORRISON
John Morrison, head softball coach at West Central High School, is in his 3rd year coaching the Heat, but he's coached before.
He has coached softball at Southern for 4 years and assisted coaching football with Will Bavery when son Danny played football.
When he took over for the Heat, the teams only had won 4 games in two years under their new consolidation with Southern-Union schools.
Morrison, no stranger in Henderson County, has played sports all through school at Southern, graduating in 1980. At that time, there wasn't a baseball program in the school or he most likely would have been a leader on the team.
Morrison married his high school sweetheart, Shelly Siens who was also outstanding in girls' sports at Southern.
She has also coached and assisted coaching many teams at Southern and West Central, and is by her husband's side as an assistant coach along with Scott Hopping of Galesburg.
Morrisons' three grown children were outstanding athletes at Southern and in college. Danny played basketball and football for the Rebels and baseball with Wisslead, Ragar, Morrison, Keever, and Leath, but broke his hand the first game of his Junior year sliding into home plate.
He then played for Monmouth College and now teaches for Monmouth-Roseville high school and coaches football.
Hallie and Mindy were both strong endurance pitchers in softball throughout high school with very successful seasons.
Mindy pitched the Regional win for the Rebels her sophomore year after 26 innings on the mound. They won three Regionals in four years there.
Hallie played for SCC in their National Championship win in 2003. Mindy played left field, 3rd base, and pitched at SCC and her team ended 7th in the nationals held in Orlando, FL.
Hallie is an LPN and Mindy a surgical tech in Fort Madison, IA
The girls both coach WC high school girls in a fall softball league which entails practices and 8 ballgames.
John is now working at Great River Medical Center who allows him flexible time to coach.
The last three years coaching the Heat he has enjoyed a steady improvement.
Two years ago, the Heat 2010 girls team, had several outstanding players, Coach Morrison said, Justine Dillard, Mariah Brooks, Alyssia Johnson, and Erin Bavery as they ended the season 12-16 and with some pretty close games.
Last year the 2011 season ended with a 15-16 record, and this year in 2012, they stand at present with an overall 15-3 record, and all of the starters will remain for next year's season.
Coach Morrison said, "Most of these players have played since age 10. Todd Ensminger had a traveling team and played in ASA tournaments since Junior High during the summers."
The Freshmen played last year for the Muddawgs at the Rec Plex in West Burlington, Iowa. And they played together as the Hend-Co-Hills Heat coached by Lonnie Brent. Todd and Erika Ensminger helps along with Morrison.
"It's a team sport, but it's an individual sport, too!" Morrison explains, as each player improves her game."
"Alexis and Jenna alternate as starting pitchers. We're a better team defensively with Alexis at shortstop," he said.
Kayla Droste plays 2nd base, Kylee Beilser relieves Alexis a short when she moves up to pitch and Brent goes to the outfield. She pitches most of our JV games.
Morrison is especially grateful for all those who help him and the program improve the ballpark to make it safe an fun and competitive, such as Twomey's Foundation, and Kim Gullberg, Johnson's Sod, Biggsville, Byron Sebastian, Gary Brueck, his dad Tom Morrison and many others.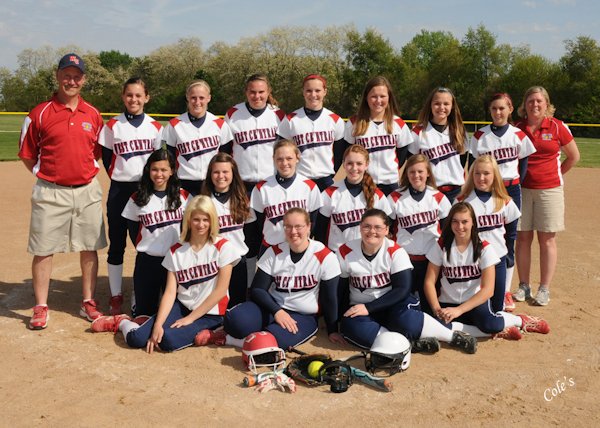 -Photo by Cole Photography
The West Central Heat Softball Team enjoying the number one spot in the Lincoln Trail Conference this year with a 13-1 record. After 8 conference wins in a row, #2 Annawan handed them their one loss with a score of 0-1.
---