The Hancock-Henderson Quill, Inc.
---
Meet Your Neighbor
by Susan Galbraith, The Quill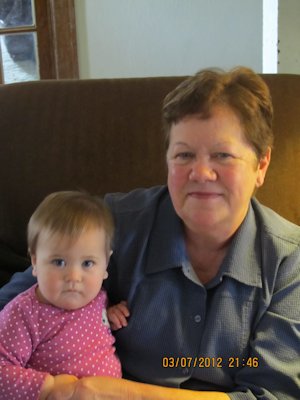 Meet Your NeighborBeth Weber of rural Biggsville and my youngest Meet Your Neighbor, her granddaughter, 10 month old cutie, Logan Thompson of Monmouth.
Beth was employed by J.C. Penny as a supervisor for 20 years before her retirement. Previously she was a stay at home mom for their 7 children.
She was born in Elmira, New York and raised in Merritt Island, Florida. She graduated from Merritt Island High School in 1966 and attended Brevard Junior College in Coco, Florida.
Beth and hubby, Jim, will be married for 44 years in August of this year. Jim is retired from Case New Holland in Burlington, Iowa.
Beth's parents are the late Earl Wilcox and her mother, Martha, lives in Florida.
She and Jim are the parents of 7 adult children. Kristina (Mark) Baldwin of Princeton. Kristina is a plant manager and Mark is a stay at home dad. Jenna (Chad) Link lives in Kirkwood. Jenna is head of the Warren County Health Department and Chad is owner of Link Logging and farms. Gretchen (Bob) Grojean live in Chaffee, Missouri. Gretchen is employed at Southeastern Missouri University in Cape Girardeau and Bob is store manager of Food Giant.
Matthew (Toni) lives in Biggsville. Matthew is employed by Burlington Northern Santa Fe and Toni is a stay at home mom.
Molly (Mike) Goularte lives in Laurel, Maryland where she is employed by the National Security Agency, and Mike is stationed in Hawaii in the Army.
Patricia (Justin) Thompson lives in Monmouth. Patricia is a first grade teacher at West Central and Justin is employed by Heritage Landscaping and John, lives in Detroit, Michigan and is employed by the Department of Defense.
Beth and Jim are the proud grandparents of Sam and Mathew Baldwin, Taylor and Alison Link, Bobby and Rievley Grojean, Karley and Tyler, Owen and Michael Weber, Tobias Goularte and Logan Thompson.
Beth is of the Methodist faith. Her hobbies include sewing, knitting, reading and taking care of her grandbabies. Beth currently helps her daughter, Patricia, by babysitting with Logan during the school year while Patricia teaches.
Beth recalls a special vacation she and Jim took last March when their children bought them tickets to Hawaii for a Christmas present.
She said, "The scenery was beautiful, the weather great, the beach was awesome. Their daughter, Molly, was their terrific tour guide." Beth said, "Jim went scuba diving on the island of Oahu while I enjoyed the scenery!"
---