The Hancock-Henderson Quill, Inc.

---
Meet Your Neighbor
by Susan Galbraith, The Quill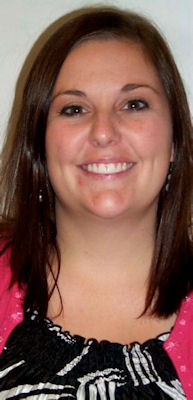 Meet Your Neighbor Jenna Crouch of Aledo, a new staff member at West Central Middle School.
Jenna is the 6th grade Literature and Language Arts teacher. This spring she is looking forward to helping coach varsity girls softball at West Central High School.
She was born in Muscatine, IA and raised in Illinois City, across the Mississippi River from Muscatine.
In 2006 Jenna graduated from Rock Ridge High and continued her first two years of education at Black Hawk College in Moline and the last two years were spent at Western Illinois University in Moline.
Her parents are Leonard Crouch, who is retired, and Roxane Anders. Jenna's step-father is Kyle Anders.
Her mom and step-father both are employed at Crop Production in New Boston.
She has two brothers, Wade Crouch (26), an employee of John Deere and Montgomery Anders (17), a junior at Rock Ridge High School.
Jenna's plans are to be married next July to Bill Emery III. Bill is employed by Avenia Power Company, out of Minnesota, and works on the Iowa crew as a lineman.
In her spare time she enjoys reading, going on walks with Conrad (her Maltese) and playing softball. Jenna played softball in high school and in 2005 her Rock Ridge team won the state championship.
Her student teaching was done at Mercer County Intermediate School in Aledo.
She currently enjoys playing on slow pitch ball leagues and like most women, loves to go shopping!
She attended Heritage Church in Rock Island before moving to Aledo and also was a member of Pine Bluff Church in Illinois City.
Her hobbies include reading on her "Nook" which she loves.
When asked about a favorite spot to vacation, Jenna said, "Every year my fiance and his family travel to Cass Lake, Minnesota to fish and relax. We spend a lot of time on the lake just hanging out".
This being Jenna's first year of teaching she said, "I enjoy all the unique personalities of the kids. There is never a dull moment and no day is ever the same..... variety, variety variety!!"
---