The Hancock-Henderson Quill, Inc.

---
Meet Your Neighbor
by Christy Kienast-The Quill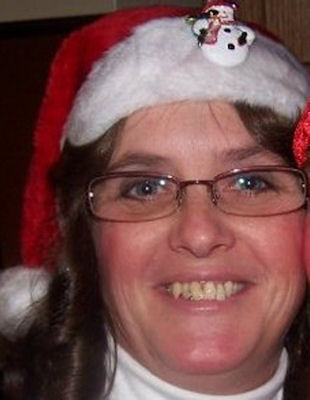 Meet your neighbor Barb Udell of La Harpe. Barb moved to La Harpe from Medford, Oregon in May of 2005.
Barbara was born on February 25, 1962 in Great Lakes, Illinois. She was raised everywhere, her father was in the Navy so the family moved every 2 to 3 years. Barb graduated from WACO high school in Olds, Iowa in 1981. This year was their 30th year class reunion. Barb has an Associates from Stratford College in Washington, DC.
Barb has one brother, Robert who lives in Pulaski, Iowa, he is a volunteer firefighter and has 4 children.
Barb has 2 sisters, Robin lives in Spokane, Washington with 2 kids, and 3 grandkids and cleans houses and her other sister Rose lives in Virginia Beach, VA. She has 2 kids and is a school bus driver.
Barb has been married to CJ Udell for 13 years. CJ works at Lance in Burlington, IA. She has three children from a previous marriage and CJ has children from a previous marriage. Daughter Brandy, 30 is married to Sterling Atterberg and they have 2 boys, Ben (4) and Logan (2) and a baby due in October.
They live in Niota. Daughter Maggie, 29, is married to Mike Anderson and they have 3 children, Paige (7) Auna (6) and Mikey (4). They live in Dallas City. Daughter Jackie, 28 is married to Brett Kelley and they live in La Harpe. They have two children, Bryce (5) and Nora, 2 months. CJ Sarah Udell and she lives in Los Angeles, California and she has two children, Savy (7) and Joey (3). His son Kevin lives in Spokane, Washington.
Barb works for Pella Corporation in Macomb. She has worked there for 5 years. Before Pella she worked for Vista Bakery in Burlington, IA for the first year she lived here.
Barb loves to make crafts. She likes to quilt, crochet and cake decorating. The thing Barb loves to do most is spend time with her daughters and her grandkids.
---