The Hancock-Henderson Quill, Inc.

---
Meet Your Neighbor
by Susan Galbraith, The Quill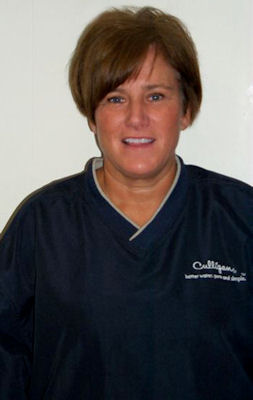 Meet Your Neighbor Renee Goff of Biggsville.
Renee is employed full time with Culligan in Burlington, Iowa, does the bookkeeping for Goff Real Estate and recently opened a business called Goff Screen Printing in their home in Biggsville.
As an employee of Culligan for 14 years, she is a licensed water technician who travels to peoples homes to test and diagnose their water.
She was born and raised in the La Harpe area.
In 1980 Renee graduated from La Harpe High School. She has earned several licenses for technical testing of water and also is a certified coach.
She has been married to hubby, Dickie, for 17 years.
They share the responsibilities of their new business, Goff Screen Printing, which keeps them both very busy.
Her parents are Eugene and Betty Johnson of La Harpe. Eugene is a retired farmer and Betty is a homemaker.
Her siblings are Roger (Mary Ann) Johnson who live in rural La Harpe, Randy, who passed away and wife (Sandy) Johnson who live in La Harpe, Rita Bennett who lives in La Harpe, Rex (Debbie) Johnson of rural La Harpe, Rhonda (Delbert) Kreps of La Harpe who own R & D Foods, Ricky (Debbie) Johnson of rural Carthage and Ronnie (Traci) Johnson of rural Carthage.
She is the mother of Brad (28) and wife Nikki who live in Peoria. Brad is employed at the Air National Guard in Peoria and Nikki is a hostess at a hotel. Kris (24) lives in Stronghurst and is a Pre-K teacher and coaches junior high boys baseball and girls basketball, and Trey (16) a junior at West Central High School.
She is the grandmother of Peyron (3 1/2) of Peoria who has a sister or brother on the way.
She is a member of the Biggsville United Methodist Church.
Renee doesn't have much spare time but when she does she spends time with the kids and family and going to sporting events.
When asked what her favorite thing to do was she said, "Downtime!" "The beginning of March we always travel to a tropical location usually a resort in the Riviera Maya or Puerto Vallarta."
She has been on the West Central school board for three years.
When asked about her new business she said, I love going out to school events and seeing people wearing the West Central Heat T-shirts and sweatshirts we have designed. I think it is important to keep businesses in Henderson County. It is so much more convenient than traveling to Galesburg or Burlington, Iowa."
---