The Hancock-Henderson Quill, Inc.

---
Dallas City 9/11 Remembrance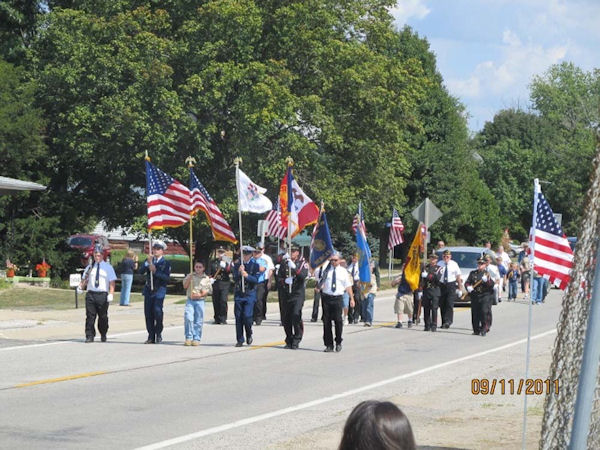 On Sunday September 11, 2011, the country remembered the tragedy that happened 10 years ago.
Remembrance services were held all over the country on this special day, to remember our fallen family, friends and heroes.
In our own community of Dallas City, the Sons of the American Legion Squadron 297 held a wonderful event.
A cookout was held at Hagys' in Dallas City and a parade began at 1 o'clock consisting of local first responders and military.
Fire departments from Lomax, West Burlington, West Point, Carthage, La Harpe, and Dallas City participated in the parade.
Local Dallas City Boy Scouts , the American Legion and Hancock county Sheriff Scott Bentzinger also participated in the event. Several members of the community spoke during the memorial ceremony.
The event started out with the Pledge of Allegiance, and then Mayor Ruth Higgins thanked the Sons of the American Legion Squadron 297 for organizing the event.
Opening and closing the event with prayer was Father Tony of Sacred Heart Church who is also the Chaplain of the Sons of the American Legion. Sergeant John Gittings of the Army gave a wonderful speech as well.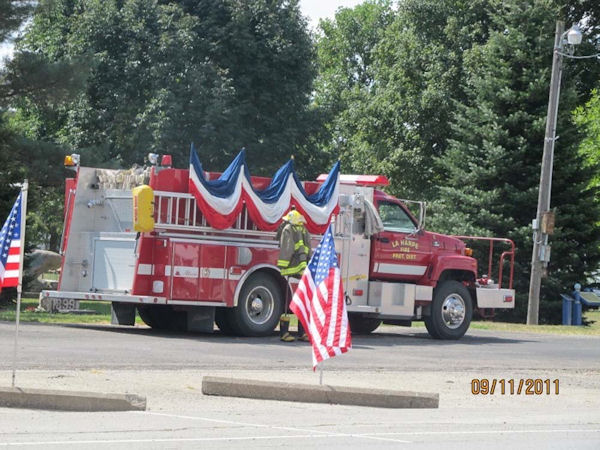 La Harpe Fire Department saluted the fallen on 9/11
---