The Hancock-Henderson Quill, Inc.

---
Ruberg, 90, Reflects On Life- Served On "Air Force One"
Charles Ruberg of Oquawka
By Susan Galbraith, The Quill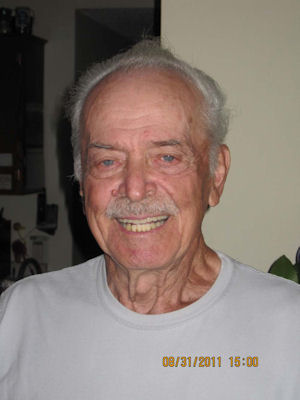 Charlie was born in 1928, at home in Oquawka, and has spent most of his life there.
In 1948 he graduated from Oquawka High School and started his employment at the Iowa Ordinance Plant in Middletown, Iowa where he was employed for 2 years.
His parents, Thomas and Blanche Ruberg, are both deceased.
He has four siblings. Wayne and Keith Green, both deceased, Doris Vancil of Oquawka who is 94 years young, and George G. Green who lives in Florida and is 90 years young.
He and the love of his life, Bette, were married in Gladstone in 1954.She passed away unexpectantly in August of 2010. She left behind her special dog, Frankie, who now keeps Charlie company.
He and Bette are the parents of three children, Michael, Bruce and Linda (Todd) Miller who all reside in Oquawka. Michael and Bruce are in construction, Linda is employed at Fishers Food Store in the produce department and Todd is a retired state police officer; currently the Police Chief of Oquawka.
Linda was sitting by his side during the interview and Charlie said, "My daughter, Linda is my savior." You could see the sparkle in his eye as he glanced at her.
Linda and Todd have given him three grandchildren: Colby (26), Ryan (23) and Katelyn (20). Colby is employed by Hy-Vee in Burlington, Iowa, Ryan is employed by Frame-Kon in Oquawka and Katelyn is a junior at Western Illinois University in Macomb majoring in Criminal Justice.
He is of the Methodist faith.
In May of 1950 he joined the Air Force and retired in 1970 as a Master Sergeant. He was first stationed at Lackland Air Force Base, in Texas, for basic training. His first assignment was at Castle Air Force Base in the San Joaquin Valley in California until 1953. From there he was stationed, for one year, at French Morocco, which at that time was ruled by the French. He continued his career at Berkstrom Air Force Base in Austin, Texas for completion of a 4-year enlistment. He was then discharged in 1954.
He re-enlisted at Nellis Air Force Base in Las Vegas, Nevada and was there for 2 years. His next assignment was in Washington, D.C. at the National Airport which is now the Reagan Airport. He was with the 154th Primary Detachment Support with the White House. While there he was assigned to Andrews Air Force Base in security. At that time the Air Force had moved their base from Reagan to Andrews. He was assigned to VIP transport with all dignitaries coming or going out of Washington, DC. Andrews was the air terminal where planes for Presidents Truman, Eisenhower and Vice President Nixon were held.
The list of dignitaries Charlie flew with are numerous: Charles DeGaul whom he escorted from New Orleans to San Francisco; the King of Morocco who had been visiting in the US and was taken back to Morocco; Douglas McArthur and his wife who had boarded in the Philippines and were flown to Elmondorf Air Force Base in Alaska, stayed overnight and then the next morning were flown to New York. Charlie said, "MacArthur would not fly in the dark; the reason for the layover in Alaska;" the original 7 Mercury astronauts flown from Patrick Air Force Base, now known as Kennedy Air Force Base to Washington; Hubert Humphrey, and Harry Truman. In fact Charlie said, "Harry Truman invited us to Independence, Missouri for a 2 bit-tour," plus many VIP's, congressman and senators. Also the bodies of Dag Hammarskjold, then Secretary General of the United Nations and also the Italian Ambassador to the US from Washington DC to Rome. At the time he and Bette were invited to the Italian Embassy for escorting the body back to Rome.
When a trip for a president or dignitary was planned, someone went in advance to check things out. About 90% of the time there was also a preflight visit.
He also was in Vietnam for a year doing security where 125 guys worked for him at Ben Wah Air Force Base. At that time all bases were made out of tents as they were only temporary structures until the men needed to be moved to another area. The closest city to Ben Wah was Saigon.
A date vividly etched in Charlie's mind is November 22, 1963. He was on Air Force One with President John F. Kennedy, wife, Jackie, and many other dignitaries headed for Dallas, Texas where the President was to ride in a motorcade in downtown Dallas. Charlie said his security shift was 6 hours that morning, from 6:00 a.m. to 12:00 noon. Air Force One landed at Love
Field in Dallas. In the middle of the morning word came, "The governor has been shot (John Connelly/Texas)". And then," the president had been wounded". After a period of time, the crew received word that the President had died from his wounds. The next thing the crew heard was, "Stay here we are flying the body home." Later the casket of President Kennedy was brought to Air Force One and several seats were removed to make room for the casket. Charlie said, "LBJ wanted to be sworn in before Air Force One left the ground in Dallas. Sarah Hughes gave LBJ the oath of office with Jackie standing next to President Johnson, her suit showing traces of blood. He said, "It was total chaos on the plane". They returned home to Bethesda Naval Hospital with the body of our 35th President John Fitzgerald Kennedy. Charlie said, "There was not a dry eye on the plane ride home."
During the burial at Arlington National Cemetery in Washington, DC, Charlie was in Air Force One when it flew low over the cemetery during the burial in a final salute of respect for our fallen president.
Charlie flew numerous trips with President Kennedy and around the world with Lyndon B. Johnson as vice-president. In fact he was also on the plane with President Kennedy when the flight was aborted because of the Bay of Pigs incident.
He was in Washington, DC for 10 years with the same unit.
Charlie also informed me that Air Force One is not called Air Force One until the President of the United States is on board; very interesting.
He retired with honors, earning the bronze star, 1967 NCO (non-commissioned officer) of the Year, and many other meritorious citations. I saw many photos, including those of President Kennedy's casket being loaded on Air Force One, LBJ being sworn in as President with Jackie Kennedy by his side and many, many items of memorabilia and gifts given to him by foreign dignitaries, sitting presidents, their families and staff, all of which are locked away for safe keeping.
Two of his special Air Force buddies Wyatt Broom, Chief Master Sgt. and Wayne Stophel were on several flights with him.
Charlie has been in 40 foreign countries
He and Bette enjoyed two personal invitations to the White House.
He spoke highly of Colonel Swindal who was the pilot of Air Force One.
For 19 years Charlie ran and managed the Eagles Club in Oquawka when it was first built in 1975.
Being a huge baseball enthusiast he coached boys and girls softball and men's fast pitch softball. He has been involved in the baseball organization for 40 years and was appointed as the first Baseball Commissioner. He said, "I ran the ball diamond the military way when it came to inventory."
In 2001, Charlie was named Citizen of the Year by the Village of Oquawka for his 40 years of total dedication to the Oquawka Ball Diamond. His family is very proud of Charlie and his accomplishments.
He presently enjoys doing flower and vegetable gardening and spending time with family and his dog, Frankie. He loves fishing, mushrooming, and evening drives looking for deer.
Thanks to Linda I was privileged to be the first person to interview Charlie about his experiences aboard Air Force One when President John F. Kennedy was assassinated. As a teenager the memory of President Kennedy's assassination will be forever etched in my mind.
Thank you Charlie, for taking the time to tell us about the events of history and your experiences!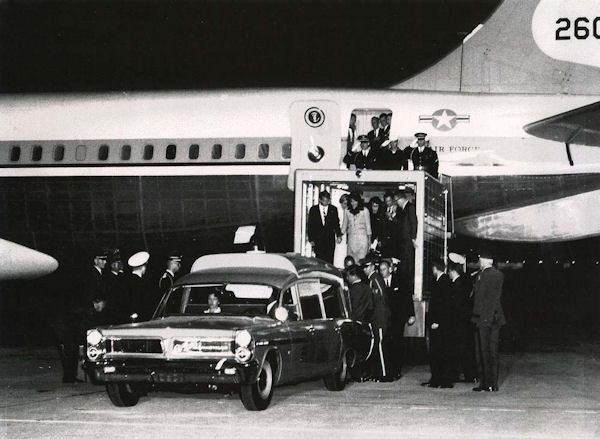 Body of JFK is being off-loaded from AF-1 at Andrews Air Force Base, Maryland after the fateful shooting in Dallas, Texas in Nov. 22, 1963.
---