The Hancock-Henderson Quill, Inc.

---
Meet Your Neighbor
by Christy Kienast-The Quill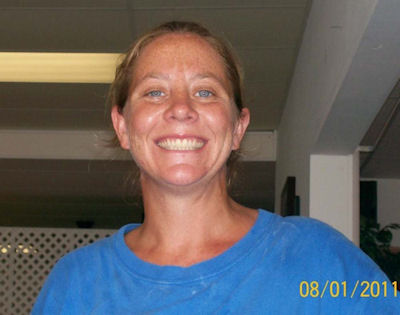 Meet your neighbor Hannah Hall of rural La Harpe.
Hannah and her family recently moved here from Burlington, Iowa and feel it was the best thing they ever did.
Hannah was born on October 3rd, 1975 in Burlington, Iowa. She graduated high school in 1994 and from college as a medical assistant in 1998.
Her mother lives in North Liberty, Iowa and works at University of Iowa Hospitals. Her father lives in Burlington, IA and works at Southeastern Community College.
Her significant other is Josh Wever. Josh is the owner of Wevers' Tree Service. It is a family business and they all work at it together.
Hannah has three children, Joe Bauer, Haylie Bauer and Dawson Adams.
Hannah has worked as a cook for the Country Cafˇ in La Harpe since they opened and helps Josh with the Tree Service. She worked as a phlebotomist and a waitress until she was diagnosed with cancer. She is now cancer free.
Hannah has one sister and two brothers. Her sister, Bekki Hohenthaner is the Director of Nursing at Prairie Ridge in Mediapolis, IA. She lives in Burlington, IA with her husband and 4 children, Brayden (17), Taylor (17), Addison, (13) and Colten, (11). Brother Josh lives in Iowa City, and works as a heavy equipment operator. He is married and has 4 children, Samantha (18), Ayden( 10), Naomi (9) and Caleb (7). Brother Tim lives in West Burlington, IA. He works as an electrician apprentice. He is married and also has 4 children, Donavan (13), Raylee (10), Sala Jo (6) and Emery (5).
Her hobbies include hanging out with her family. They play softball, go on the river, and have bon fires on their farm.
Her fondest childhood memory is when all the neighborhood kids would get together and play kick the can. That was also when she met her now husband to be, Josh Wever.
Hannah says her family loves this area, the people and the friendliness. They believe it is a great place to raise their kids.
---