The Hancock-Henderson Quill, Inc.

---
Henderson County Fun Run
story by Jennifer Baxter,
photos by Macy Davis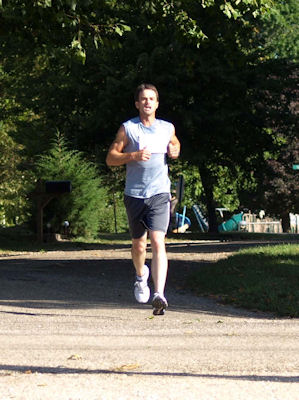 If only the weather could be as beautiful during the fair as it was the morning of the Henderson County Fair Fun Run!
For the third year in a row, registrations grew. 2011's 5K and 1 mile event brought in 168 participants together with 9 volunteers and several others to root on friends and family crossing the finish line.
Matthew Butler from Blandinsville made a great first place finish in the 5K with a time of 19:08. This is Matthew's third time to run the 5K and his second time to win. His family also participates; his wife is Valerie and their two daughters are Megan and Emily.
Following Matthew was Allison Scott, daughter of Tony and Jodi Scott of Knoxville. She is in 7th grade, plays basketball and is a cross country runner on the Knoxville Junior High track team. Her grandparents are Bob and Carol Scott of Stronghurst.
Bob Ensminger of Burlington, IA ran a great race as well. Mr. Ensminger is popular among the students at West Central School district as a substitute teacher.
Kyle Olsen (grandson of Orlin and Ruth Olsen) of Champaign, was also competing for a first place finish. This is Kyle's second time to participate and has finished with an impressive time in both instances. Kyle's younger sister Hannah also competes in the Henderson County Fair Fun Run.
Nicholas Brokaw, son of Richard and Wendy Brokaw of Media came in first place in the 1 mile race followed by Alec Thompson, son of Joe and Amy Thompson of Roseville, Spencer Jack, son of Amanda and David Jack of Stronghurst, and Carly Thompson, daughter of Joe and Amy Thompson of Roseville.
The winner of each race won a $25 check.
The West Central Volleyball teams made a great showing at the Fair Fun Run and brought along some of their family members to join in the festivities.
West Central's Future Farmers of America served a hearty breakfast of biscuits and gravy, mixed fruit and flavored water. The students and instructor Darrell Gittings arrived early Monday morning to set up the food tent and prepare for the hungry runners and walkers.
The Brent Family Pharmacy served the thirsty participants water at the finish line. Veterans who participated were each given a gift certificate donated by Running Wild, a new sports store in West Burlington, IA in appreciation of their service to the United States of America. The Veterans were surrounded in red, white and blue t-shirts that participants wore in the 5K or 1 mile race.
Our generous and appreciated sponsors for the 3rd Annual Henderson County Fair Fun Run were Big River Resources, Stronghurst Community Corp, Stronghurst Booster Club, West Central FFA, Bank of Stronghurst, Raritan State Bank, Warren Henderson Farm Bureau, Oak Lane Nursing and Rehab, Oak Wood Assisted Living, Twomey Company, Good Dental, Dr. Robert Pogue, Running Wild, Eagle View Health Center and Brent Family Pharmacy.
The Henderson County Fair Fun Run greatly appreciates all participants in this year's competition and looks forward to seeing them all again on Labor Day 2012. It is Fun Run!
---