The Hancock-Henderson Quill, Inc.

---
Meet Your Neighbor
by Christy Kienast-The Quill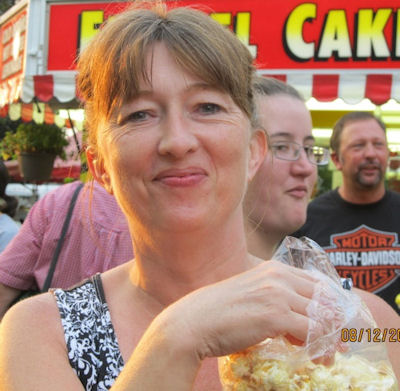 Meet your neighbor Rebecca Quivey of La Harpe. Rebecca was born and raised in La Harpe and went to La Harpe schools.
Her parents are Larry Boone of Marshfield, MO and her mother Carol is deceased.
She has one sister, Brenda Burt of Disco and one brother, Scott Boone of St. Louis, MO.
Rebecca and her husband Max have been married for 13 years.
Rebecca has three children, Adam -30, Carolyn-27 and Megan-24 and 3 grandchildren. She also has 3 step children, Ryan, Michelle, and Mindy and 8 step grandchildren.
Rebecca opened the Country Cafˇ in La Harpe on November 1st of last year. She had previously worked at Ritters' in Burlington for 11 1Ś2 years as lead floral designer and department manager. She also spent four years in Florida managing Arby's Restaurants.
Rebecca feels starting the Country Cafˇ is a great accomplishment. She left a secure job with full
benefits to take a risk in our community. She appreciates all of the support of the residents of La Harpe and looks forward to serving them for many years to come.
Rebeccas' hobbies include mushrooming and hunting.
---