The Hancock-Henderson Quill, Inc.

---
Meet Your Neighbor
by Misty Huston, The Quill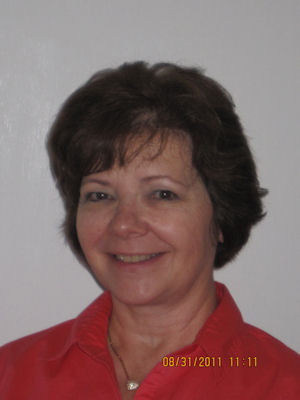 Meet Your Neighbor Roberta Robbins of Oquawka.
Roberta and her husband, Jeff, have lived in Oquawka approximately 3 years where Jeff is the pastor of the Oquawka, Biggsville and Gladstone United Methodist Churches.
They previously lived in Blandinsville and Waverly, Iowa.
Roberta started her own business in June entitled, "Simple Pleasures Baskets and Gifts". She is also a certified lay minister, and alternates with Pastor Jeff in the pulpit, in Gladstone and Biggsville.
She and Jeff have been married for 4 years.
She previously was employed by Western Illinois University, in Macomb, for 2 1/2 years as Chairman of the Department of Communications where there were 400 majors. She resigned to aid her husband in the ministry.
She was born in Burlington, Iowa and raised on a farm in Carman.
In 1974 she graduated from Union High School and continued her career at Monmouth College where she earned her Bachelor's degree in 1977; her masters from Boston University in Boston, Massachusetts and completed her doctorate thesis at Ohio University in Athens, Ohio.
She is also a member of the Monmouth Area Chamber of Commerce.
Her parents are Melba and the late Robert Davilla. After the flood of 2008 her mother moved to Burlington, Iowa. She actively helps Roberta's son, Ned, manage Davilla Farms.
Roberta has one sister, Donna, who is retired from the Des Moines Iowa school district.
Their children are Peter Adams who lives in Minnesota. Peter went to culinary school and is employed by Interlachen Country Club and Common Roots as a cook, Ned (Megan) Adams who farms and lives at rural Carman. Kaitlin (David) Beaumont of Waterloo Iowa. Kaitlin operates a home daycare business and David is employed by John Deere Company, Jeffery Jr. (Julie) Robbins are both students at the University of Louisville in Louisville, Kentucky and live in Charleston, Indiana.
Jeffrey is working on his degree in social work and Julie in physical therapy. Timothy Robbins is employed by Steel Spinning in Hudson, Iowa and daughter, Courtney (Jon) Azvill live in Traer, Iowa, where Courtney is an at home mommy and John is employed by John Deere.
They have 9 grandchildren; Stephanie (15), Jackson (1 month), Braven (4), Cannen (2), Evan (5), Christopher (1), Mishayla (5), Vinnie (3), and Kale (5).
For enjoyment she has loved starting her own business. Roberta said, "It is a real education and I have a greater appreciation for small business owners-it's a leap of faith."
For entertainment she plays the piano, reads, knits, sews and most of all spending time with their families.
Roberta had her first horse at age 13 and has continued her love of horses. Her horse, "Big John" is a Perscheron-Morgan and is boarded at the family farm. Granddaughter Stephanie also loves horses and has her own horse, Cisco.
Roberta said, "Last summer Jeff and I went to Pringle, South Dakota in the Black Hills National Forrest to ride horses. It was quite an experience. While we were on a trail ride the sky grew dark and it suddenly started pouring rain and hailing large hail. Our guide took us under some trees but we were already soaked through. Jeff, through the other riders, was trying to give me hand signals which we found humorous after the fact!" She said she knew why cowboys wear brimmed hats-to hold the rain and tip it out when it goes full.
Roberta said, "It has been a number of years since I lived in Henderson County and if someone would have told me 5 years ago I would be here, I would have been very skeptical but I am now happy to be a part of the community.
When we moved here I had three goals: 1) To be a member of the West Central School board, 2) To start my own business, 3). To secure 10 jobs in the county that are not agriculture related. I have accomplished two of them and plan to accomplish the third.
She is also a member of the Monmouth Area Chamber of Commerce.
When asked what she liked about about being a new member of the West Central Board she replied, "The school board is faced with difficult decisions over the next few years.
I like decision making and problem solving and I look forward to working together to face the challenges that lie ahead. I have really enjoyed getting acquainted with the other board members.
---