The Hancock-Henderson Quill, Inc.

---
Meet Your Neighbor
by Susan Galbraith, The Quill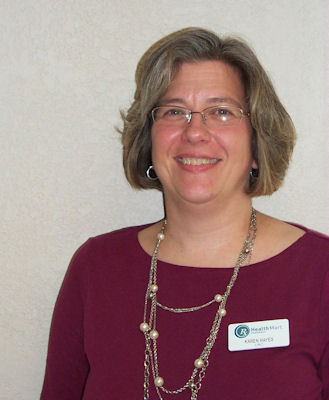 Meet Your Neighbor Karen Hayes of Roseville who has been employed, since they opened in 2008, by Brent Pharmacy.
Prior to that she was employed by Axline's in Monmouth for 3 years and earlier for Zimmer's Pharmacy for 20 years.
She was born in Taylorville and raised in Roseville in neighboring Warren County.
In 1984 she graduated from Monmouth High School and attended Carl Sandburg Junior College in Galesburg.
Her parents are Robert and Joyce Grant of Monmouth. Dad, Bob, is a retired Illinois State Police officer and Joyce is a homemaker.
Karen's husband, David, is deceased but was a paramedic and firefighter.
She has two brothers, Wayne (Megan), and Ron (Karen).
Wayne is assistant fire chief and Megan is employed at Warren Achievement.
Ron is an Illinois State Police officer and Karen is employed for Monmouth-Roseville School District in the preschool.
She also has two sisters, Teresa (Jim) Wilson who farm and live in Murrayville and Cathy (Ed) Pence who live in Jacksonville where Cathy and Ed are both employed at Jacksonville Savings Bank.
Karen is a member of the Swan Creek Methodist Church.
Her hobbies include reading and doing cross stitch.
She said, "When David was alive we always took two week vacations and went to either Yellowstone, the Grand Tetons or the Black Hills. It was always so beautiful."
When asked what she enjoys about working at Brent Pharmacy she replied, "I like having the one on one relationships with the customers and the joy of working with people and helping them to feel better."
---