The Hancock-Henderson Quill, Inc.

---
From Rags To Riches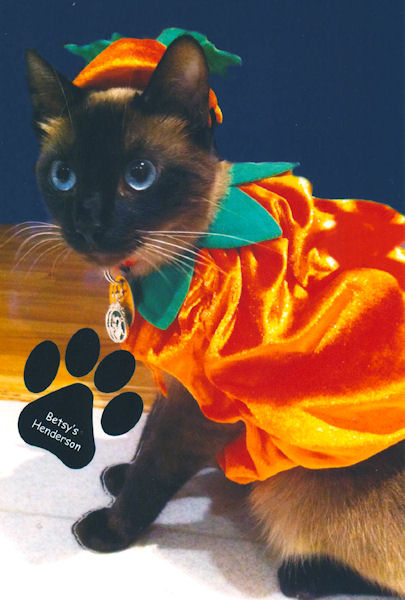 "Henderson" The Jet-Setter
All Decked Out For Halloween
"Henderson" has removed his baseball cap and is all ready for the Halloween festivities in his bright orange satin pumpkin outfit.
Born to an ordinary barn cat on the Ken and Sara Nimrick farm of rural Stronghurst, he is not even sure who his father is.
Two years ago, shortly after Henderson's birth, Betsy Boyce, came on one of her frequent visits to her cousin's farm and spotted this striking cat.
Betsy adopted the kitten and gave him the name "Henderson" from the county in which he came. She made arrangements to fly him with her to Chicago and on to her home in San Francisco, California where she is employed in the financial department of a large law firm.
It was a $200 ticket for this privileged kitty to fly to his new western home.
But his owner Betsy, is a single young woman who loves to travel and loves to ski and has taken "Henderson" on flights to Lake Tahoe in Utah and to Vale in Colorado and she has purchased several outfits for travel for "Henderson".
When the San Francisco Giants won their games, "Henderson" even sported a Giants baseball cap.
After all, the Giants are the oldest baseball team in history and has won the most games of any other ball club in the history of baseball.
They have won 21 National League pennants, appeared in 18 world series, and won 6 world series championships (the last in 2010 when they beat the Atlanta Braves).
It is true that the Cardinals have won more world series games (10), but the Giants have the most hall of fame players in all of baseball history.
Betsy is the youngest daughter of Margaret Boyce of Evanston and grand niece of Betty Brook, Stronghurst.
---