The Hancock-Henderson Quill, Inc.

---
Banjos, A Real Treat At The Raritan Opera House
by Dessa Rodeffer, Quill Publisher/Owner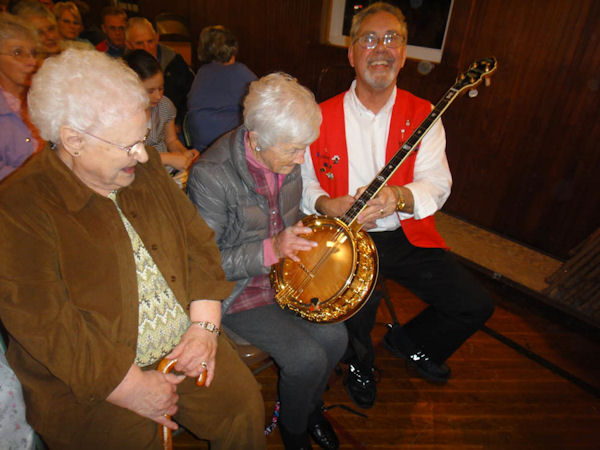 It's a special treat to have those who move away, make a special effort to return home to share their talents with their family and the home town community.
Denny Overstreet, of Morton, grew up in Raritan, the son of Pauline Overstreet and the late Bun Overstreet, and has been one of those wonderful sons who enjoys coming home and entertaining folks who enjoy his music.
His group, "The Central Ill Banjo Club," started in 1996. They play for about anyone who enjoys their music. They play and sing, tell a few jokes, and encourage folks to sing-along. It's a lot of jammin' and fun and foot-tapping and clapping, and singing. It's very contagious. Denny's Aunt Frances Overstreet of Cantril, Iowa turned 100 on October 2nd, but attended along with his mother, Pauline Overstreet. Both Pauline and Denny laugh as Frances begins to try her hand at plucking out a tune on his banjo. The concert ended with "Just A Closer Walk With Thee."
---