The Hancock-Henderson Quill, Inc.

---
Meet Your Neighbor
by Susan Galbraith, The Quill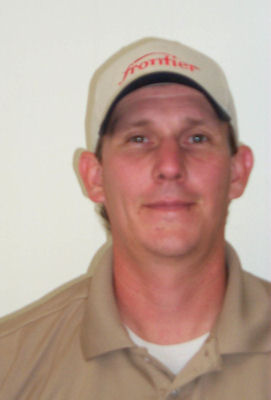 Meet Your Neighbor Jason King
Jason is from Aledo and is this areas Frontier service technician.
He has been employed by Frontier Communications for over a year and previously was employed, for 5 years, by Frye Builders Construction Company out of Muscatine, Iowa.
Jason was born and raised in Aledo and says, "It is a great place to raise my family and I wouldn't want to live anywhere else."
In 1992 he graduated from Aledo High School and continued his career at Southern Illinois University in Carbondale before transferring to Western Illinois University in Macomb.
His has been married to his bride, Lindsey, for three years.
Lindsey is an BSA officer for the Country Bank in Aledo.
They have three children, Ethan (12), a student at Mercer County Junior High, Addison (9), at Apollo Elementary in Aledo and Ella (4).
His parents are Janet Beiri who resides in Aledo and a customer service representative at Mercer Market. His dad, Butch King, farms and lives in rural Aledo.
He has two brothers. Larry (Wendy), Larry who is employed by Frontier Communications and Wendy is a nurse. The second brother, Brian (Mindy), is employed by Frye Builders and Mindy is a dental assistant. He has one sister, Stacey (Matt) Marston. Stacey has a daycare in her home and Matt is employed by General Machine and Grind. Their families all live in Aledo.
He and his family attend Messiah Lutheran Church in Aledo.
Even though he doesn't have much spare time he enjoys deer hunting, and all sports. He also plays guitar and sings in a rock band "The Tingle" with 5 members.
A memorable vacation was the one the family took last year to Disneyworld and then on to Daytona Beach.
When asked what he liked about his job at Frontier he replied, "I like the people, the challenges and doing the trouble shooting."
---