The Hancock-Henderson Quill, Inc.

---
Take "The Quill" Along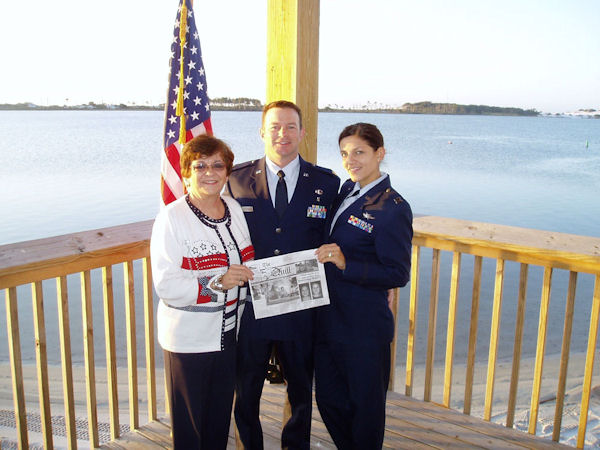 "The Quill" traveled to Hurlburt Field in Fort Walton Beach, Florida with Mary Lou Clugston on October 31 for the promotion of her and the late Conrad Clugston's son, Captain Matthew Clugston to the rank of Major.
Matt graduated from the Air Force Academy in Colorado Springs, CO in 2002, receiving a Bachelors degree in Mechanical Engineering.
He served in Korea and Afghanistan before receiving his Masters Degree in Civil Engineering from Stanford University in 2009. Matthew and his wife, Captain Cieara (Carson), a 2004 graduate of the Air Force Academy, were married this past March at the Air Force Academy Chapel.
Matthew is currently serving at Keesler Air Force Base in Biloxi, MS as the Senior Project Health Facilities Officer on a $56M addition to the medical center.
His wife is currently attending advanced cyber operations school at Hurlburt Field.
Pictured are Mary Lou Clugston, Major Matthew Clugston and Captain Cieara Clugston. Mary Lou and Cieara shared the honor of pinning on the oak leaf during the ceremony officiated by his friend Major Tarek Awada, a special tactics operations officer at Hurlburt Field.
When you go on a trip, take "The Quill" along and have your picture taken with it, then send it to us. Let's see where all "The Quill" can travel.
---