The Hancock-Henderson Quill, Inc.

---
Meet Your Neighbor
by Susan Galbraith, The Quill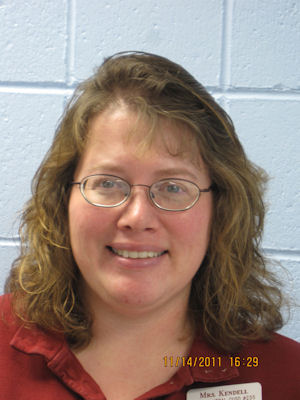 Meet Your Neighbor Lora Kendell who lives in Burlington, Iowa.
Lora has been employed at West Central School District for 18 years. Her first years she taught at ROWVA.
She was born in Jefferson City, Missouri.
In 1988 she graduated from Cole R-V (Rural District #5) High School in Eugene, Missouri and continued her education at Western Illinois University graduating in 1992 with a bachelors in English Education and a minor in history.
Her hubby of 16 years is Darven. Darven is employed by area recyclers in Burlington, Iowa.
Her mother is Karen Albee and she has six siblings, David (Barb), who lives in Arkansas, Angela who lives in Columbia, Missouri, Kevin and Darren who live in Jefferson City, Missouri, Matthew (Bing), who lives in San Francisco, California and Karene who also lives in California.
She and Darven have a son Ryan (12), who is a student at Aldo Leopold in Burlington, Iowa and Jessica (8), a student at Sunnyside Elementary School in Burlington, Iowa.
She has several nieces and nephews, Alyssa (17), a senior at Davenport North, Nicholas, a freshman at Augustana, Adam, a freshman at Valpairso, Megan (12), Ashley (16), Brieana (10), Emberly (7), Derek (7) and Devin (10.
She is a member of the First United Methodist Church in Burlington Iowa.
She enjoys reading, traveling and attending their children's activities.
Special vacations are ones taken to Colorado. Lora said "I love the mountains and hiking. Also Yellowstone, Mt. Rushmore and the Grand Tetons."
Being a teacher I enjoy, "helping students learn and grow, discovering their strengths, talents, and finding out who they are - it's so rewarding."
---