The Hancock-Henderson Quill, Inc.

---
Adkisson Cried Bids To New High For Henderson County Farm Land
314 Acre Farm Land Brings $2,790,549
by Dessa Rodeffer, Quill Publisher/Owner
Registered bidders were quieted early this year on January 26th, as auctioneer Van Adkisson of Roseville, sold Henderson County farmland for $8,850/acre and $8,750, in two of four tracts located 4 miles north of Stronghurst along Route 94.
Jerry Carnes and his son Jason had purchased the farm in a sale that drew a large gathering of farmers, investors, and bidders from surrounding counties and beyond.
Later, Carnes purchased the two remaining tracts, for $7,600 and $7,150, averaging $7,945/Acre for the 270.45 acre farm.
The $8,850/acre tract, was an all-time high for Henderson County farm ground until this week at St. Patrick's Community Center outside Raritan.
Tuesday, a new high in farm real estate was achieved for Henderson County after Van Adkisson called an auction for the Harold Nolen estate on 314.03 acres of farm ground, on the same highway, Route 94, only located 3 miles south of Stronghurst.
The high bid was $10,200.00/acre for two of the four tracts that were sold. Another 81.99 acre tract brought $7,900 and a fourth tract of 74.66 acres sold for $7,200/acre.
The total purchase price of the Nolen Estate farm land was $2,790,549.00 at an average $8,886.25/acre.
The land sold as follows in a crowd of 75-85 persons from a field of 24 registered bidders:
Tract #1 - 82.02 Acres sold at $10,200/acre to the George, Jay, and Larry Harrell family who live in the area.
Tract #2 - 81.99 Acres sold at $7,900/acre to Michael and Dessa Rodeffer, Stronghurst.
Tract #3 - 75.36 Acres sold at $10,200 acre to Bidder of tract 1 & 3, Robert and Susan Ternes Jr. of Elyria, Ohio, who farm in Ohio but own several hundred acres next to this tract in Henderson County.
Tract #4 - 74.66 Acres sold at $7,200/acre to Brad Wagner of St Charles, MO near St. Louis.
Wagner did his bidding through Bill Johnson, a bid assistant of Adkisson's. Wagner, a Monsanto executive, originally from Aledo, is an investor.
In bidding, Robert Ternes took the final bid of $10,200 after around 20 minutes of action and three small breaks with a beginning bid of $7,000.
He was offered any combination of the four tracts and took Tract #3 for a total of $768,672 with the Harrell family taking tract #1 for a total of $836,604.
In the second round of bidding, the opening bid was $6,500 then Adkisson took a break at $7,250, to encourage bidders around the room, and opened again with a $7,300 bid from Rodeffer.
After a final break at $7,900, there were no further bidders after several attempts, and the farm ground was sold to successful bidder Mike Rodeffer who asked for tract #2 for a total of $647,721, leaving tract #4.
The final 74.66 acres ended in the hands of the absentee bidder through telephone conversations by Adkisson's bid assistant to Brad Wagner, with his bid of $7,200 for a total $537,552.
Although $10,200/acre is the high for Henderson County ground this year, Adkisson has another chance to "out-do" his $10,200/acre sell, at the upcoming Zielke farm sale he is preparing for on November 30th.
He will be auctioning 730 acres of farm ground in Rozetta Township in northern Henderson County, before his final sale of the year December 15th of 476 acres of prime farm land in the south part of Warren County and north part of McDonough County of 7 tracts in the Ted Cochran Estate.
Adkisson said he had a farm north of Monmouth on Sept. 12th bring $10,500/acre, for his highest this year and with bidders willing to bid up, there are more land owners auctioning off farm ground.
He said, "The higher sales is the result of high commodity prices and low interest rates, and in a slow economy, land is always a good investment."
Van Adkisson was assisted at Tuesday's auction by his wife Mary Kay who ran the video; their daughter Heather Gregory, clerk, and her husband Jeff Gregory, ringman, of Alexis; Tom Hall of rural Monmouth, ringman, and Bill Johnson, bid assistant.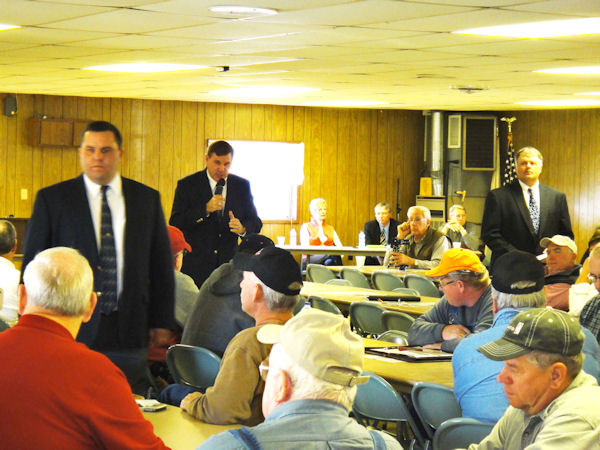 Van Adkisson center with his ringmen, Jeff Gregory left, and Tom Hall, right
---