The Hancock-Henderson Quill, Inc.

---
Meet Your Neighbor
by Christy Kienast-The Quill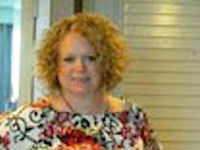 Meet your neighbor, Monica Buckert Mershon of La Harpe. Monica was born on February 10 in Keokuk, Iowa. Monica grew up in West Point, Illinois and graduated from Southeastern High School in 1989. She attended SIU - Carbondale. She is the daughter of Karon Cameron Buckert of Hamilton and Leo Buckert of Sutter.
Monica is the owner of Premier Graphics in La Harpe for the last eight years. She previously worked at DOT Transportation in Mt. Sterling and The Flower Shop in Carthage.
Monica and Murray Mershon were married on June 21, 2003. They were married for 7 1/2 years when he passed away unexpectedly in March of 2011. Murray grew up in La Harpe and was the owner of Mershon Trucking and also worked for Wal-Mart. Together they have 3 children. The oldest Nicholas is 9 and is in the 4th grade at La Harpe Elementary. Caleb is 7 and is in the 2nd grade at La Harpe Elementary and Allison is 2.
Monica is one of four children. Her brother Kent and his wife Kaye live in Sutter. They have a daughter, Sami. Kent works at Ursa Farmers Co-op in Ursa and Kaye is a travel agent at Town & County Travel in Quincy. Sami attends school in Warsaw. Her sister Leah Singler and husband Bill live in Medford, Oregon where Leah is an accountant and Bill is a high school football coach. They have two sons, Mitch goes to school at Oregon State University and plays football. Jack is a senior and goes to school at South Medford High School and is the quarterback for the football team. Her other brother Chris and his wife Teri live in Quincy. Chris is a seed salesman for Lewis Hybrids in Ursa and Teri works at John Wood Community College.
Monicas' grandparents were Clarence and Velma Wollbrink of West Point. Grandma Velma was a housewife and grandpa worked the farm and for Wollbrink Motors in Carthage. Her grandpa Les Cameron is retired and lives in Loraine. Raymond and Marie Buckert lived in Sutter and grandma was a housewife and grandpa farmed.
Monicas' hobbies include spending time with her children, she loves to watch sports, especially football (GO STEELERS!).
She is also a fan of the St. Louis Cardinals and the Lakers. She also loves spending time with her family and being outside.
---