The Hancock-Henderson Quill, Inc.

---
Meet Your Neighbor
by Susan Galbraith, The Quill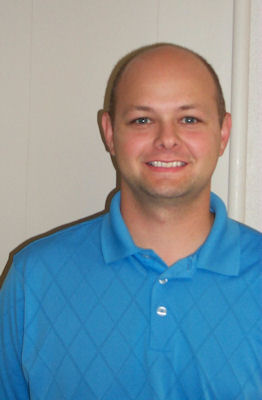 Meet Your Neighbor Tyler Blindt of rural Gladstone.
He has been employed by Brent Family Pharmacy since it opened in 2008. He previously worked at Walgreens in Galesburg for two years.
Tyler was born in Burlington, Iowa and raised in Monmouth.
In 2000 he graduated from Monmouth High School.
His parents are Mike Blindt, deceased, and Angie Hendrickson. Angie who is employed as a nurse in Galesburg at Bridgeway.
He has one brother, Michael who is employed at Warren Achievement in Monmouth, and two sisters, Cheyenne and Tiegan.
He has been married to his bride, Natalie (Brent), for 5 years.
They have six children, Emily (10) a 5th grader, twins - Molly (9) and Matthew (9), third graders, Lucas (6) 1st grade, Lilly (4), who attends Small World Preschool, and Sophia (2).
Emily, Molly, Matthew and Lucas all attend West Central Elementary School at the north campus in rural Biggville.
He and Natalie are very involved with their children's sports.
Emily and Molly play softball and basketball and Emily recently started playing the clarinet.
Matthew plays football, basketball and baseball.
Lucas plays basketball, baseball and flag football.
His hobby is spending time with his wife and family and working on their home.
In 2008 they were flooded out and he says, "Our home is still a work in progress!"
When asked what he enjoys the most about being a dad he said,
"Seeing the kids smile, teaching them and seeing the look on their faces the moment you know they "got it!"
Tyler is mainly seen at the new Stronghurst facility of Brent's Caremark Pharmacy.
---