The Hancock-Henderson Quill, Inc.

---
West Central 8th Grade Promotion
Eighth Grader and Student Council President Miss Maddy Cooper addressed the relatives and friends who came to the West Central Middle School Monday evening to celebrate their class's promotion into West Central High School.
"Good evening ladies and gentlemen, welcome to the 2011 eighth grade class promotion. I am Maddy Cooper this year's student council president.
"It seems like yesterday that we came to this school with our knees knocking, scared of the big kids, but now, suddenly, we are the big kids. The experiences we have had here have helped to shape us and prepare us for the next four years.
"Our wise teachers told us, when they were giving us one of their many needed lectures, that the biggest lessons in life can be learned through our mistakes, and boy did we make a lot of mistakes. So I guess that means we really learned a lot! But seriously, because we were allowed to stumble we learned to grow and stand on our own two feet.
"We entered middle school as children but we leave as young adults. Our parents and teachers helped us learn responsibility, gain independence, and learn the life skills necessary, to not just face our future, but to make our future, and for this we are very grateful.
"And now we are at the end of our eighth grade year, seconds away from being promoted and going into high school.
I hope that each and everyone of you will make it some of the best years of your lives and create many happy memories.
"So to the class of 2015, I want to wish you all the best of luck. Let's stay close, and work together so that we can make our class the best it can be because that's what really counts.
""Thank you!"
Maddy Cooper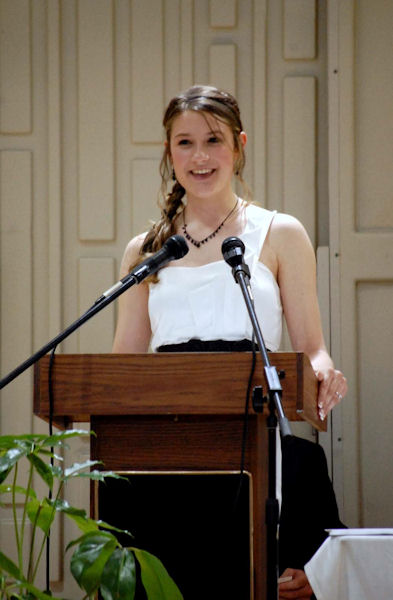 Maddy Cooper gives her address as Student Council President during her WC 8th Grade Promotion.
-photo by Kayla Smith Photography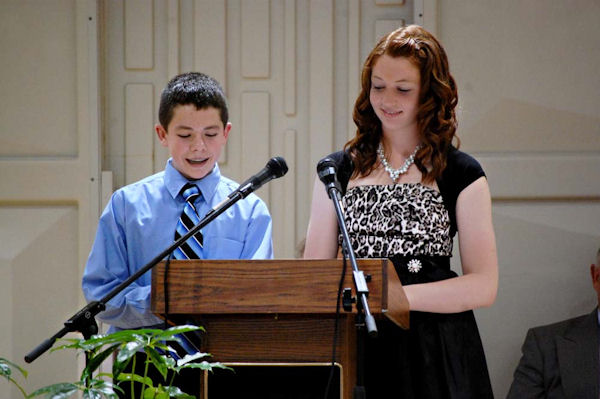 During West Central's 8th Grade Promotion exercises Monday evening at the Southern (Stronghurst) campus, Regan Bowman and Maddy Brent entertained their eight grade graduating classmates with some class memories of their various fun together that occurred over their years.
-photo by Kayla Smith Photography
---