The Hancock-Henderson Quill, Inc.

---
Illini West Graduates 121 Seniors
by Christy Kienast, The Quill

On Sunday, May 22, 2011 approximately 115 high school seniors received their high school diplomas.
Illini West Principal Brad Gooding told the class of 2011, " I take great pride in telling people throughout the entire state of Illinois, that I am the principal of Illini West High School."
The Class of 2011 is the first class to walk the halls of Illini West for all four years. Principal Gooding thanked the class for setting an example of excellence and togetherness to all members, both young and old of our community.
In his address to the Class of 2011, Cody Carson said "We are no longer, Dallas City, Carthage and La Harpe, but instead we are Illini West." Elizabeth Cokel told her classmates "Remember as you walk out of here today, to hold onto your hopes and dreams." Joseph Goetz took the time to remind his classmates to thank those who have helped them thus far. Anna Ryan said that the past four years have been unforgettable and to remember that the class of 2011 will always be there for each other. Audra Stephenson told the class that together we have made it this far, now we must go out on our own.
Graduating Cum Laude with a GPA of 3.6-3.749 were Jill Beach, Jenna Clayton, Danielle Husband, Amanda Jack, Kariann Seltzer, Jill Vass and Carter Wear.
Graduating Magna Cum Laude with a GPA of 3.750-3.890 are Jodi Adcock, Kelly Ard, Brandi Campbell, Taylor Fink, Danielle Miller, Trey Ourth, Dylan Pieper, Lauren Pollock and Katie Ryder.
Summa Cum Laude with a GPA of 3.9000-4.000 are Mallory Brooks, Bali Campbell, Cody Carson, Elizabeth Cokel, Danielle Curtois, Joseph Goetz, Emma Jack, Kristina Johnson, Brickston
Mellinger, Anna Ryan and Audra Stephenson.
Those students in the National Honor Society are Kelly Ard, Mallory Brooks, Bali Campbell, Cody Carson, Elizabeth Cokel, Danielle Curtois, Joseph Goetz, Danielle Husband, Kristina Johnson, Jacob Pilkington, Anna Ryan, Audra Stephenson, Jonathan Tobias, and Leah Wisehart.
American Legion Awards for Good Citizenship were presented to Caitlyn Fink, daughter of Jerry and Laura Fink, and Joseph Goetz, son of Anthony and Susan Goetz by Darrell Kraft of the American Legion. The teachers select the recipients of these awards based on the qualities of honor, courage, leadership, scholarship and service.
Students in the Class of 2011 going into the service are John Brewer, Rob Hutson and Erick Klein to the US Navy. Colt Vance for the Air Force and into the Illinois National Guard is Austin Brown.
Daughters of the American Revolution awards, presented by Keela Ernst were awarded to Elizabeth Cokel, daughter of Jeff and Anne Cokel and Cody Carson, son of Rob and Laurie Carson. This honor is awarded to one senior boy and girl chosen by the faculty with the outstanding qualities of honor, service, courage, leadership and patriotism.
Illini West Board of Education President Tracey Anders presented the class with their diplomas.
Congratulations Illini West Class of 2011. May all your dreams come true.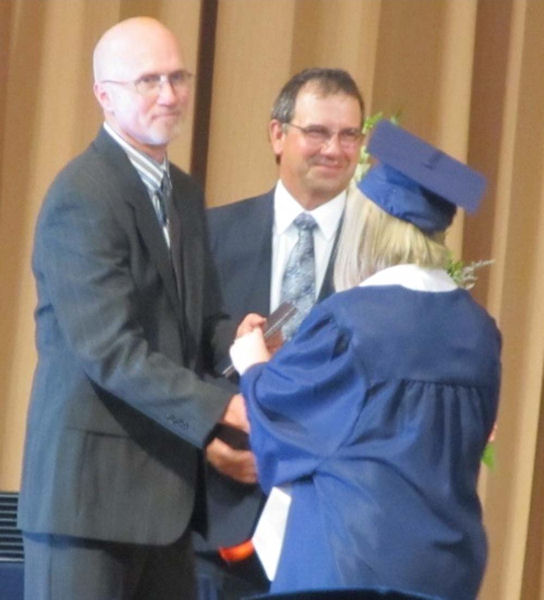 Kristena Johnson receives her diplomas from Board President Tracey Anders.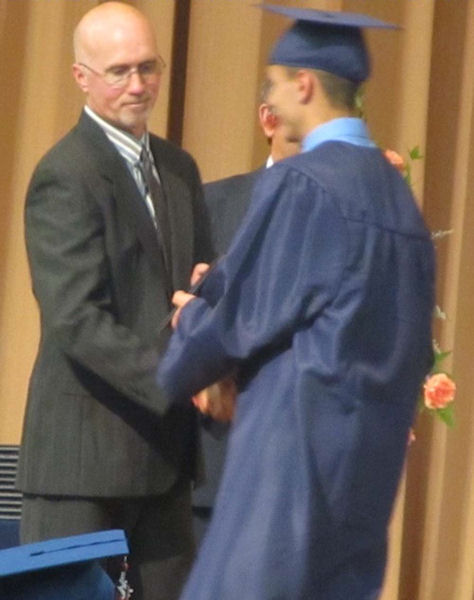 Rodney Rodeffer receives her diplomas
---