The Hancock-Henderson Quill, Inc.

---
Meet Your Neighbor
by Susan Galbraith,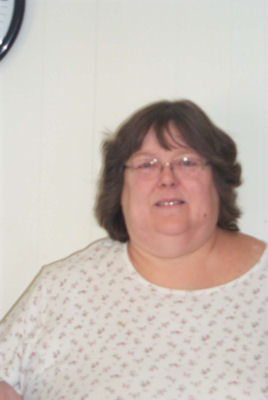 The Quill Meet Your Neighbor Anne Smith of rural Gladstone, a part-time employee of The Quill.
Anne was born in Burlington, Iowa and raised in the Gladstone and Stronghurst areas.
In 1973 she graduated from Southern High School and continued her education at Western Illinois University where she received her BS in elementary education in 1977. In 2010 Anne graduated, with honors, from Southeastern Community College in West Burlington, IA with an AAS in Office Administration and an Accounting Diploma. During tax season she was employed by Walker Tax Service in Burlington. She has been employed in Burlington at Pzazz Motor Inn, for 12 years, Hope Haven, and in Cherry Creek, South Dakota, she taught for the Bureau of Indian Affairs for 4 years on the Cheyenne River Reservation for the Cheyenne Sioux Tribe, and 1 year at the Navajo Reservation teaching at the Greasewood Boarding School in Greasewood, Arizona.
Anne and hubby, Maurice, will be married 28 years in August.
Her parents Raymond Annegers is deceased and mother, Marilon Stewart lives in Burlington, Iowa.
She has three brothers, Leon (Trish) Annegers of Stronghurst and Joe (Linda) Annegers of rural Gladstone and Mason Stewart, deceased.
Anne and Maurice have had 8 exchange students. Anne calls them "her sons'.
Lutz from Germany,
Sergey from Belarus,
Max of Kazakhstan,
Victor of Belarus,
Raitis of Latavia,
Emil of Denmark,
Jacob of Switzerland and
Damon of New Zealand.
She is a member of Bethel Lutheran in Stronghurst where she serves on the church council, secretary for the council and on the BLCW Council.
Anne is involved in many organizations, BPW (Business and Professional Women) where she was local president, Woman of the Year, Young Careerist and Individual Development speaker, served at the regional level as director and secretary/treasurer at the state level, served as state general chairman and meeting planner for 9 different state presidents and attended numerous national conventions. She also volunteers for Steamboat Days working with tickets and the gate.
Her hobbies are reading, crocheting, scrap booking and she took her first quilting class last fall. She also loves any kind of animals.
Her favorite vacation was when she visited Louisville, Kentucky at National BPW Convention and visited Church Hill Downs.
At that time there was a Kentucky Derby winner, Rapid Gray, whose caretaker was from northern Iowa, and Anne was able to pet and feed Rapid Gray which was very exciting for her; being such a horse lover!
She said, "I grew up on a farm with many, many different types of animals as my dad loved animals."
When asked what she enjoyed most in her life she said, "Staying active and involved. When I volunteer for something I give it my whole heart."
---