The Hancock-Henderson Quill, Inc.

---
Six Earn Top Honors at WC Graduation
by Dessa Rodeffer, Quill Publisher/Owner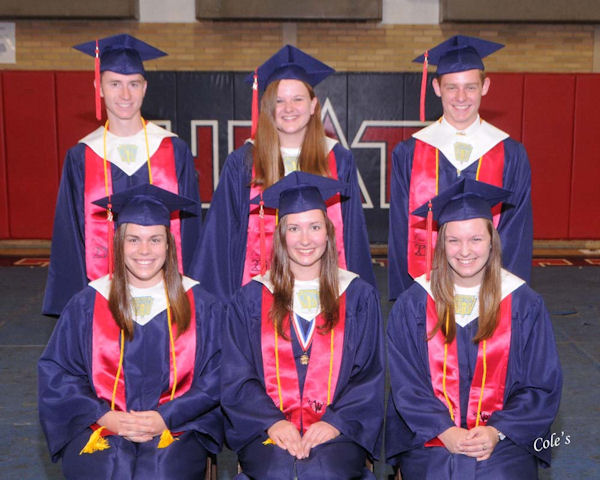 The speeches were short, but the respect and celebration was high from this year's 2011 Class of graduates of West Central Community School District #235
Class Treasurer Taylor Cupps opened by saying it is bitter-sweet, but she "can't wait for what the future brings."
Mary Brokaw, Student Council and Kara Stumphy S.C. Historian prayed for "safety" as they celebrate their accomplishments, and for "success" in their future plans.
Principal Jonathan Bradburn introduced each board member.
Stephanie Ackermann Class President and Dylan Bell Student Council President gave the Officers' Addresses.
Dylan, transferred to West Central from Pella, Iowa as a Freshman, thanked his classmates for always making him feel welcome at school and in the community.
Supt. Ralph Grimm gave his congratulations and words for them to journey towards in giving the best they can, in as many places as they can before the Academic Awards were announced:
Top eleven graduating seniors, wearing Gold Cords were Hannah Allaman, Rachael Allaman, Mary Brokaw, Alissa Crandall, Nicholas Daniels, Brian Earp, Rebecca Foley, Brock Heap, Mary Lewis, Samuel Sanning, and Amanda Schneider.
Alissa Crandall, Jacob Steffensmeier, and Samantha McVey were given Recognition of Student Service Achievement.
Nick Daniels was recognized for his four years of perfect attendance throughout his four years at WC High School.
Salutatorian Honors was given to Amanda Schneider.
Valedictorian Honors (pictured from left to right) were given to (front) Rachael Allaman, Alissa Crandall, Hannah Allaman, (back row) Brock Heap, Mary Lewis, and Samuel Sanning.
Each Valedictorian gave a short address with the ladies first, then the guys. Sannings reminded his class not to forget where they came from and that he had personally witnessed the caring of a community when they lost their home to fire.
Eight senior girls sang "I Will Remember You," and presentation of the class and the diplomas, followed by the Tassel Turn and Recessional.
---