The Hancock-Henderson Quill, Inc.

---
Meet Your Neighbor
by Christy Kienast-The Quill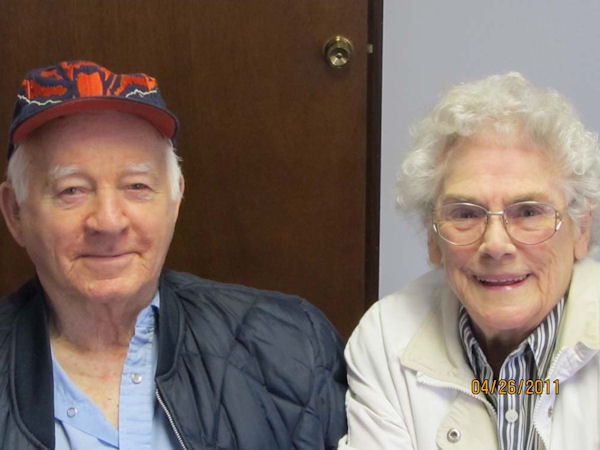 Meet your neighbor Bill Crabill. William Crabill was born south of La Harpe on Dec. 14, 1922 to Atlee and Irene Crabill.
He has a brother Jack and 2 sisters Betty Gordon and Jean Purdy.
He was raised in the country and rode a pony to school at Rossville school and later to Shake Rag school which was southwest of LaCrosse.
He was able to drive an old Chevy to high school at La Harpe and remembers giving the Sparrow girls a lift to school.
Bill graduated as salutatorian of his class in 1941.
After a couple of months at Brown's Business School in Burlington, IA, the instructors praised his La Harpe education, saying there was nothing else they could teach him. So, he took an office job at the ordinance plant.
Not long afterwards, he was drafted into the Army and served in the Corps of Engineers based in Ft. Belvoir, Virginia.
Bill was sent to Lamos, New Mexico, which is where they made the atomic bomb and worked in the office.
In 1945 in Silver Springs, Maryland, Bill married Lillian Reed, and they have been together for 65 years.
Lillian was also a lifelong La Harpe resident. Lillian was born to Henry and Frances "Flossie" Reed in 1922 as well.
Lillian has three brothers, James, Harold and Lewis and 1 sister Joanne Grienman.
Together they had 5 children. Dick (Linda) of Joplin, MO, Bonnie (Alan) Stewart of La Harpe, Cathy (Reinnie) Bergman of Carthage, Becky of Carthage and Dian (Becky) also of Carthage. They have 8 grandchildren, Mark, Matthew, Meri, Shannon, Shawn, Ryan, Eric, and Sadie, and 12 great grandchildren with one on the way, 4 step grandchildren, and 2 great grandchildren.
Upon his discharge from the Army, Bill worked a short time in bookkeeping at Haeger Pottery in Macomb.
He then decided to go into farming, which he did for 18 years. Around 1964, Fred Gibb offered him the job as parts manager at the new Fred Gibb Chevrolet dealership. During his tenure there, he won several awards for sales in parts.
Upon leaving the parts business, he and Lillian owned and operated the two Crabill Sheltered Care homes in La Harpe.
Lillian was an RN for 30+ years. When regulations became too stringent, they closed the homes and went into business doing WIRC reclamation projects. Later he worked as a plumber's helper for Town and Country service.
Bill is a man that never likes to be idle. He enjoyed bowling for many years, went back to school and obtained a nursing home administrator license, took classes to be an EMT and became a licensed insurance agent.
He taught himself construction skills and built one house and helped build another.
Bill volunteered many years as an EMT and driver for the La Harpe Ambulance, serving for a time as treasurer. He also served on the 911 board and the 708 board. He spent countless hours and drove many miles educating and helping rural residents sign up for the Dallas Rural Water Project.
Bill coordinated the SHARE food program in La Harpe from 1990 to 2000.
For about 6 years, Bill and Lillian held a monthly get together for senior citizens at the church called "Sunny Seniors" as a time for fun and fellowship. They would prepare a light lunch and provide entertainment for anyone willing to come, free of charge.
An advocate of local government, Bill has been the La Harpe Township Supervisor since 1976, a county board member since 1996 and a Republican Precinct Committeeman.
One of Bill's main priorities has been to the La Harpe Christian Church, where he has served as elder, deacon, church planter, treasurer and discipleship team member.
He traveled with a group of church volunteers to Brazil in South America in 1995 to help with construction projects along the Amazon River. He has also traveled to south Texas with Mexico Mission trips.
Bill was a blood donor for over 40 years until he was forced to quit because of health issues. He has been a faithful high school football fan, cheering on the Eagles, Thunder, Cyclones and now the Chargers.
In November of 2000, Bill had a quadruple bypass and a week after he came home, he was back volunteering and going to meetings. Bill has never met a stranger as the saying goes. He is always looking for someone help, such as signing them up to vote, helping them move, etc.
Bill and Lillian have opened their home to countless people through the years for a meal, an overnight stay or just a cup of coffee.
---