The Hancock-Henderson Quill, Inc.

---
Meet Your Neighbor
by Susan Galbraith, The Quill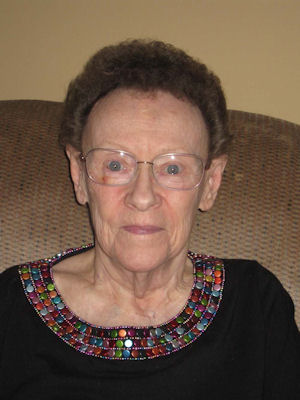 Meet Your Neighbor Jacqueline Kuhl, a new resident, of Oak Wood Estates who recently moved here from Galesburg.
Jacqueline was born in Cambridge and at the age of 7 moved to Geneseo where her father farmed. Later in her life the family moved to Farmington where her dad was then employed at a strip mine.
She attended Elmwood High School, Galesburg Business School
and graduated in 1946 from Morris Beauty Academy in Galesburg. For many years she was employed as a beautician, in the balcony of Kellogg-Drake Clothing Store where Leona Ackright was the owner of the shop.
Her parents Islah and Alvin Kuhl are both deceased.
Jacqueline has one sister, Pat (Dana) Edwardson who lives in Galesburg.
She was married to Floyd Reeder and they had a son John Reeder who has passed away. She then married Rodney Schultz and had 4 children. Kathy Hiller who lives in rural Stronghurst, Rodney Jr. Patricia Kay (Will) and James William who all live in Burlington, Iowa.
She was also married to Albert Keever and helped to raise his 3 children, Brenda, Bruce and Becky.
Jacqueline has 12 grandchildren and 3 great-grandchildren.
During her years in Galesburg she was a member of the First United Methodist Church and presently attends the Living Light Tabernacle in Oquawka.
She said, "I used to do ceramics, knit, and crochet. I also made a chess set for each of my children and have made afghans for all my children and grandchildren."
A special vacation she remembers is the trip they took to Florida to see their son John. "We visited Sea World, which I simply loved." Also trips were made to Canada and Arizona to visit some of her friends.
When asked what she enjoys in her new home she replied, "They spoil me here at Oak Wood and absolutely treat me like a queen."
---