The Hancock-Henderson Quill, Inc.

---
Meet Your Neighbor
by Susan Galbraith, The Quill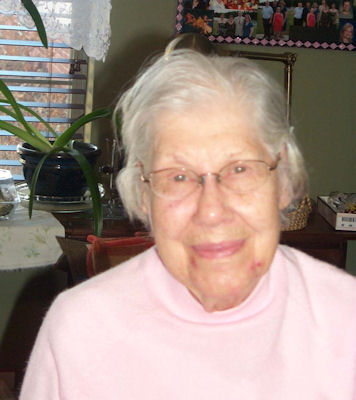 Meet Your Neighbor Evelyn Bunt of Stronghurst.
Evelyn is 95 years young and currently resides at Oak Wood and has lived in Stronghurst since 1943.
She was born in the hills of Marion County Kentucky in the same home that her father was born.
Her grandfather surveyed the land and built the house in 1861 where he raised his family. The property is still owned by Evelyn's family today. Her parents were Katie Bowman and Paige Hamilton Settles.
When she was two years old the family moved to the Adair/Industry area in Illinois. She attended a one room school house through eighth grade and graduated from grade school in 1929 from McDonough County Schools.
The area schools were combined. After that she spent two years at the high school in Industry and in 1933 graduated from Good Hope High School. Her college education was spent at Western Illinois University in Macomb where she completed her education in 3 years and one summer. She studied bookkeeping and minored in math. She had her teaching certificate at 16 years of age.
She then married Don Bunt in 1936. He was a teacher in Colchester after their marriage.
Her parents had 13 children, 6 sisters, Emma, Wanda deceased, Maxine, Barbara, Joann, Janis and herself and 6 sons, J.T., Fremond, Leslie, Howard, Audrey (nicknamed Gene) deceased and Dale who is living.
Evelyn taught school in La Harpe for 21 years. The first year she taught at Bradshaw #14, a one room school which was west of La Harpe. All the schools eventually consolidated into Unit 335 and she then taught for another 20 years there.
After her marriage in 1936 she was a member of the McDonough County Home Extension and a 4-H leader teaching the ladies how to sew.
She was a member of the Colchester United Methodist Church and taught Sunday school and was a member of the women's club.
She and Don had three sons. Robert (Nancy) who live in Huntley. Robert is retired from Superintendent of Schools and Nancy is retired from teaching. Don D. lives in Orland Park and is retired from Chicago State University. Jerry (Bonnie) are both teachers.
Her grandchildren consist of 7 girls, Dachia, Valerie, Julie, Cheryl, Noel, Kristine and Joleen and one grandson, Don R. She also has 19 great-grandchildren.
She has been a member of the United Methodist Church since 1943. She taught the young adult and junior high classes, is a member of the United Methodist Women, lay leader, and a delegate to the Central Illinois Conference for 7 years.
Recently she has given talks about the underground railroad and how quilts helped the slaves escape.
She has been a member of the Henderson County Cancer Board for 15 years and chairman of the residential area collecting money. She did that after her retirement for 10 years in 1981.
She then started an art studio in her home and painted with oil for 20 years. Her print, "Common In the Path and Santa Fe Station went to print two times. "It's quite an honor to go to print."
When asked what she liked most about living at Oak Wood she replied, "It is a beautiful place, 3 meals a day, we are able to bring our own furniture and you are treated like a queen. I don't miss my home as I love it here."
She also makes quilts for her great-grandchildren.
---