The Hancock-Henderson Quill, Inc.

---
Meet Your Neighbor
by Susan Galbraith, The Quill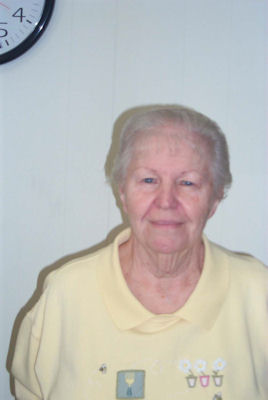 Meet Your Neighbor Rosalee (Rosie) Postle of Carman.
Rosie said, "I have lived in the same home for over 40 years.
She was born in La Harpe and raised in the Lomax and Carman communities.
Before becoming a busy wife, mom, grandma, and great-grandma she was employed for 10 years at Burlington Medical Center as a nurse's aide.
In 1959 Rosie graduated from Stronghurst High School.
Her mother, Verda, is 89 and lives in Lomax and father, Clyde Gittings is deceased.
She and hubby, Gerald, will be married 50 years in January of 2012.
They are the parents of two sons, Scott (Tami) Postle of Stronghurst. Scott is employed at General Electric and Tami is a registered nurse at Great River Medical Center; and Randy farms near Dallas City. They also have three daughters, Lisa (Ed ) Brokaw live in Stronghurst where Lisa is employed at Oak Lane Nursing and Rehabilitation in Stronghurst as an aide and Ed is employed at Carl Nelson Construction; Teresa Moulton lives in Oquawka and is employed at a local restaurant in Oquawka; and Susan (Darren) Brown reside in La Harpe where Susan is a homemaker and Darren is employed by Caterpillar near Peoria.
Rosie is part of a very large family of 10. Sister, Lila Gittings is a bus driver and lives in Dallas City, Lyle Gittings is in construction and lives in Dallas City; Sandra Gittings is employed at Champion Spark Plug and lives in Dallas City; Ellen (Randy) May live in Lomax where Ellen is a school bus driver and Randy is retired; Ronnie (Shelly) live in Stronghurst. Ronnie is employed by the Village of Stronghurst and Shelly is employed by Great River Medical Center as a respiratory therapist, Rod (Drenna) live in Rock Island. Rod is employed at John Deere and Drenna is a receptionist, Randy is deceased, Nancy (Gary) McDonald live in Littleton, Colorado where Nancy is a hospital receptionist and Gary is an airplane pilot, Peggy (Randy) Nelson live in Winfield, IA, where Peggy is a bus driver for Winfield/Mt. Union School District and Randy is an electrician.
Grandchildren are Valerie, Randy, Cody, Drew, Ali, Dalton, Madison, Tyler, Jeff, Breanna, Peyton, Spencer and Taylor. She has one great-grandson, Colton.
Rosie is a member of the Lomax Christian Church where she serves as a deaconess and co-chairs dinners for funerals.
She now spends time, in the summer, doing flower gardening, canning, and freezing. She also makes relish, salsa.
Her hobbies are flowers, fishing, attending her grandchildrens, nieces and nephews activities and the Burlington Bees baseball games. The children are involved in basketball, baseball, and volleyball.
In 2010 she and her sister, Nancy, went on a trip to England to visit Nancy's son, Keith. They were there from August 27th until September 18. During their visit they saw castles, Big Ben, tried out all the good food, took rides along the beautiful countryside and saw apple trees and blackberries. Rosie said, "People even stopped in the middle of the road to pick berries. She said when returning home from England she brought home 500 flower bulbs to plant.
She also visited the red oaks in California with her sister and parents in 1995 and went to Disney World with her family for a week in 2008. Rose said, "We had such a wonderful time together."
She has also been a member of the Glitzy Gals Red Hat society for 12 years.
She really enjoys family get-togethers and is always helping helping out whever she can with her smile and "Rosie" deposition.
---