The Hancock-Henderson Quill, Inc.

---
Meet Your Neighbor
by Christy Kienast-The Quill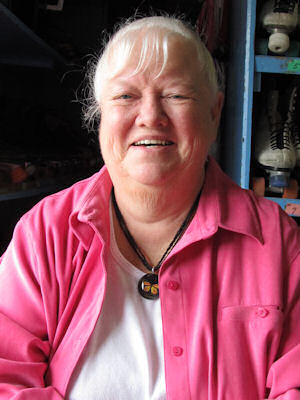 Meet your neighbor Bonnie Scott Bentzinger of Carthage.
Bonnie is the owner and operator of the Crystal Ball Roller Rink in Carthage and she works full time at County Market.
Bonnie was born on February 28, 1950 to John and Millie Scott in Carthage.
Bonnie went to Carthage Schools and graduated from Carthage High School in 1968. She went on to Gem City Business College in Quincy and graduated in 1969.
Bonnie was the youngest child, having an older sister Cindi Melvin who also lives in Carthage.
Bonnie's father John had the school buses and the charter buses in Carthage for many years and he also ran the skating rink. He passed away in 1975. Her mother Millie drove the school buses and was a tour guide for the charter buses. She also helped her husband with the skating rink. She passed away in 2001.
On June 8th, 1968 Bonnie married Mike Bentzinger. They will be married 42 years this summer. Mike is self-employed and is the owner of Bentzinger Electric.
Together Mike and Bonnie have three children. The oldest Scott is the chief deputy for the Hancock County Sheriffs' Office . His wife Tammy is a court reporter for the Hancock County courthouse. They have two children Ashland and Ian. They go to the Carthage schools.
Next is son Steve. He works for the Carthage Water Department. His fiancˇ Missy is a cook at the Wood Inn and goes to college. Steve has a son, Alex who is out of school and helps Grandma Bonnie at the skating rink.
Daughter Jonni is the baby. She works at a daycare and helps her mother with the skating rink. She is divorced and has a 2-year old daughter named Kaylee.
Bonni's fondest childhood memory is taking month long boat trips on the Mississippi River with her family. They lived on the boat for the entire month.
In her spare time, Bonnie is a member of the Red Hat society and loves spending time with her grandchildren.
---