The Hancock-Henderson Quill, Inc.

---
Meet Your Neighbor
by Christy Kienast-The Quill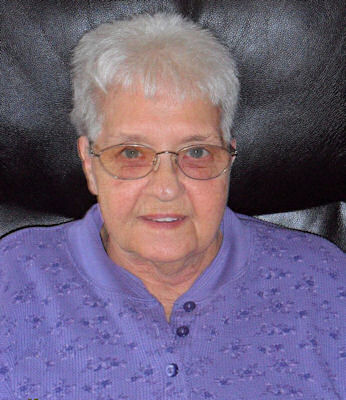 Meet Your Neighbor Florence Jessie Wayland Stewart who lives at the Maple Leaf Court Senior Citizens Apartments in La Harpe.
Florence was born on April 28, 1932 in Colchester, to Herbert and Mary Powell Wayland.
Father Herbert worked in the mines and later for the state and mother Mary was a homemaker.
Florence was one of 8 children. She has five sisters, three living in Colchester, Mary Ellen Oakman, Sandra Eddington and Pauline Cleek Silva, one sister Patsy Young died in 1996 and one died in infancy.
She has three brothers, Gaylord Wayland living in Oregon and two who died in infancy. She attended schools in Colchester.
In 1950 Florence moved to La Harpe and married Donald Stewart on March 13, 1951. Don worked for Carl A. Nelson out of Burlington, IA. They were married for 45 years when Don passed away on July 2, 1996.
Florence and Don had seven children, the oldest Shirley (Dick) Anders, lives in Terre Haute.
Shirley works at R&D Foods in La Harpe and Dick works for BNSF.
Randy Stewart, of La Harpe -Randy is retired from General Electric.
Betty (Nick) Nichols,of La Harpe - Betty is a homemaker and husband Nick drives a truck for Carry-out of Keokuk, IA.
Donna (David) Mershon, of La Harpe, -Donna is a homemaker and Dave works at General Electric.
Terry Stewart (deceased-1986),
Marylou Stewart of La Harpe, -Marylou has worked at La Harpe Davier Healthcare- Peterson Homes in La Harpe for the last 34 years,
and her youngest Donnie Stewart lives in La Harpe.
Florence has 12 grandchildren, 19 great grandchildren and one great, great grandson. She also has one great grandchild on the way.
She notes that 1996 was a particularly hard year as she lost her husband, sister and brother-in-law all to cancer and all within 6 months.
She remembers that when their older children were teenagers, Dad (Don) bought them a jukebox. He thought it would help keep them home and out of trouble.
Then with all the kids and their friends in the house, he made it 25¢ for 4 songs and the money went in baby brother Donnies' piggy bank.
Florence was last employed at the Haeger Lamp Factory in Macomb for 13 years.
She previously had worked at the Basket Factory in Burlington, Iowa, the Tomato Canning Factory in Lomax, and at the La Harpe Motel.
Florence has been retired since 1987.
Florence lived for 66 years without getting her drivers license and in 1998 finally got them. She remembers walking many a mile through La Harpe.
She remembers one time walking with grandchildren, Angela, Amy and Ryan down East 2nd Avenue when it was still cornfields.
Little Angela was looking in the corn and yelling "Here Kitty Kitty" and low and behold it was a fat black skunk. She says "It's no wonder they all didn't get sprayed!"
Florence loves spending time with family and friends. Some of her favorite hobbies include playing cards, going to bingo, she loves to watch wrestling and she use to like to dance when able.
She misses being able to get out and go.
---