The Hancock-Henderson Quill, Inc.

---
Meet Your Neighbor
by Christy Kienast, Quill Reporter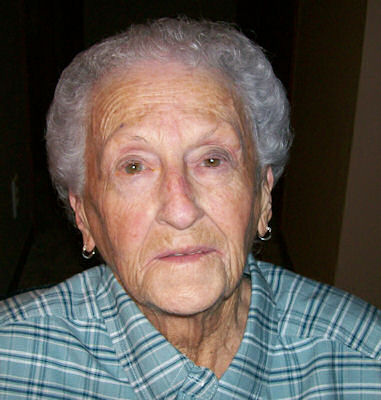 Meet your neighbor Lil Anders of La Harpe who will be 85 on June 29, 2011.
Lil was born to Clint and Helen Dunn in LaCrosse where she was raised during her elementary years and attended the country schools of McGuffey and Forest Hill.
All ages of school children attended class at the same time, Lil remembers.
When Lil was in eighth grade, the family moved to La Harpe where they bought a restaurant that they named Dunn's Caf
She graduated from La Harpe High School in 1945.
Her father Clint was a janitor at the La Harpe Hospital at the same time that he owned and operated Dunn's Caf with his wife.
Her mother Helen ran a boarding house out of their home which is the house behind the La Harpe Family Restaurant. Her mother also ran a radio station and did the local news especially for Gibbs Chevrolet from the upstairs of the house.
Lil remembers that "everyone knew mother from the news station."
Her father passed away in 1968 and her mother passed away in 1991.
Lil was one of four children. Her sister Betty White lived in La Harpe and is now deceased. Her brother Dale was the mayor of La Harpe from 1953 to 1960. He also drove a school bus for many years. He passed away in 2004. Her little brother Donald lives in Galesburg.
On December 11, 1948 Lillie Dunn married Ray Anders of Terre Haute.
Ray was a plumber/pipefitter and worked with Jerden Heating and Cooling out of Galesburg and would many times be gone 2-3 weeks at a time. After 43 years of marriage, Ray passed away in February of 1993.
Lil and Ray had four children. The eldest Jerry lives with his wife Shirley in Monmouth and has three children, Ryanne, Nicholas and Katie. Jerry drives a truck.
Next is daughter Christy Vincent who lives with Lil in the house that her parents bought in 1978.
Christy is a dispatcher for the Illinois State Police.
In 1959 a son Kelly was born and died in infancy.
Two years later son Tracey was born. Tracey works for Frito-Lay. He was instrumental in helping with the convergence of La Harpe, Dallas City and Carthage high schools and is now President of the Illini West School Board. He and his wife Cindy (Dietrich) live in La Harpe. she workls at Jones Insurance. They have a son Trayton in first grade, still at home, and two older daughters who were La Harpe High School homecoming queens. The oldest is Amber Warren of Auborn. Her husband Daniel works for Green Honda in Springfield and she is the manger at Express in the White Oaks Mall. The other daughter is Jaden Anders, a Registered Nurse at Blessings Hospital in Quincy.
Lil has three great grandchildren Cheyenne, Sierra and Chloe who live in Monmouth.
Lil had been employed by Sylvania in Burlington, IA and she also worked in several area businesses including Mid's Cafˇ, the Newsstand, Travelers Inn, Sugar Daddy's, Hamilton-Miller Grocery, The Fair Store, The Mystery and the old Tastee Freez that was next to Dr. Steve Rodeffer's dental office on Main Street. Lil cleaned houses around town as well.
She said she had loved to dance especially the Jitterbug when she was younger. Her fondest memory is teaching little brother Donald how to dance by having him place his feet on top of hers while dancing to the jukebox at the restaurant.
Lil went to her first major league baseball game last year in St. Louis and had a great time.
While Lil loves to go for rides and to sightsee, her favorite thing to do is spend time with family and friends, especially she enjoys the special times with her grandkids.
---