The Hancock-Henderson Quill, Inc.

---
Dallas City-La Harpe 7th Grade Win Tourney
by Coach Deanna Hartrick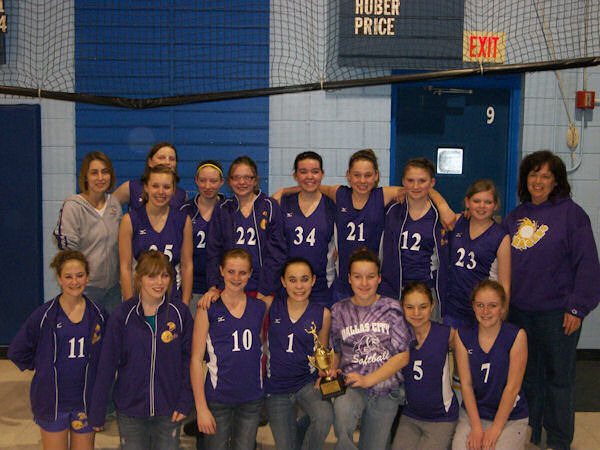 The La Harpe/Dallas City 7th grade Volleyball team traveled to Limestone-Walter Jr. High for the Limestone Invitational Volleyball Tournament on Saturday, February 26th and brought home the trophy.
In the first round the Lady Eagles defeated Monroe 25-3, 25-11.
Aubree Ourth scored 22 straight points in the first game.
In the 2nd round the La Harpe/Dallas City played Illini Bluffs and came away with their second win with the scores of 25-12, 25-8.
In the 3rd round the Lady Eagles faced their toughest competition against the home team of Limestone Walter. In a close battle the Lady Eagles lost 23-25, 19-25.
This was the first lost for the Lady Eagles since they began their volleyball career together in 5th grade. Their winning streak of 47 games had come to an end. However, the Lady Eagles had one more game to play against Chillicothe.
The girls came out fighting and ready to win the tournament. They beat Chillicothe 25-16, 25-18. This put the Lady Eagles in a 3-way tie for first. In case of a tie the tournament rules stated that they would go by least amount of points allowed on a team, therefore the La Harpe/Dallas City Lady Eagles were declared Champions of the tournament!
The Eagles ended their season 16-1. Their overall record since 5th grade is 48-1.
The Lady Eagles will play for the Regional Championship on Tuesday, March 1st at 6:00 p.m.
The team is coached by Deanna Hartrick and Assistant Lisa Trout.
---