The Hancock-Henderson Quill, Inc.

---
Meet Your Neighbor
by Misty Huston, The Quill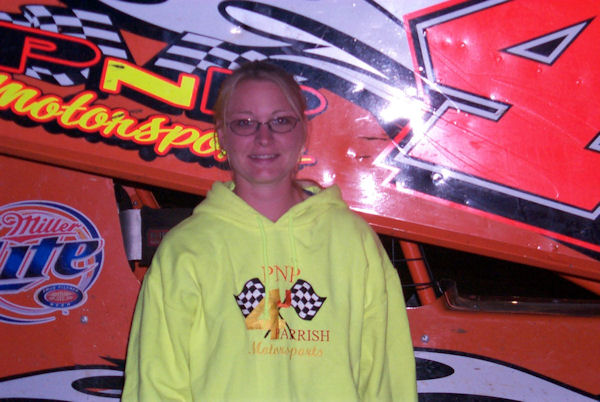 Meet Your Neighbor Jen Parrish of Oquawka.
She was born in Iowa City, Iowa and raised in Oquawka, where she has lived her whole life.
In 2002 Jen graduated from Union High School in Biggsville. In May of 2008 she received her Bachelors of Science in Animal Science and Bachelors of Science in Dairy Science Degrees from Iowa State University.
She is currently self-employed, the owner of PNP Nutrition, as a nutrition consultant for livestock. She specializes in cattle and goats. In addition, Jen is an independent sales representative for Excellerated Genetics, breeding cattle and selling beef semen. She has previously worked on dairy farms performing various duties such as milking, caring for the baby calves and conducting health checks.
She and hubby, Justin, have been married for five years. He is self-employed, the owner of J Parrish Construction, which provides construction and carpentry services.
Her parents are John and Sandy Peterson of Oquawka. John owns a semi and generally does trucking however, due to the high fuel prices lately, he has decided to park his truck for the time being and is working with Justin in construction. Sandy works at Lowe's in Burlington, Iowa.
She has one brother, Kyle Peterson who also works at Lowe's in Burlington, Iowa.
Jen is a member of the First Christian Church in Burlington, Iowa. One of her main hobbies is racing. She enjoys being actively involved as part of Justin's race team, PNP Motorsports. He races a 305 Sprint Car at 34 Raceway in Burlington, Iowa and a 360 Sprint Car with the Ideal Ready Mix Sprint Invaders series.
Another hobby of Jen's is spending time with her livestock. She has registered boar goats, registered Nigerian dwarf goats, Crossbred Dairy goats, two Holstein cattle, and Dairy cattle. She recently participated in her first Boar goat show on June 25th in Cambridge, where her Nigerian Buck earned Reserved Grand Champion. At another show she just returned from in Indiana, her young Nigerian Doeling earned a fourth place finish in a class of sixteen 3-6 month olds.
Overall she simply enjoys spending time with family and friends, going racing and being with her livestock.
Her most memorable memory is of Justin's first win in his 305 Sprint Car last September. She says, "That memory has stuck with me because it was just an awesome night".
---