The Hancock-Henderson Quill, Inc.

---
Stronghurst Enjoyed Fun In The Sun
At 125th Kickoff Party In The Park!
-By Dessa Rodeffer - Quill Publisher/Owner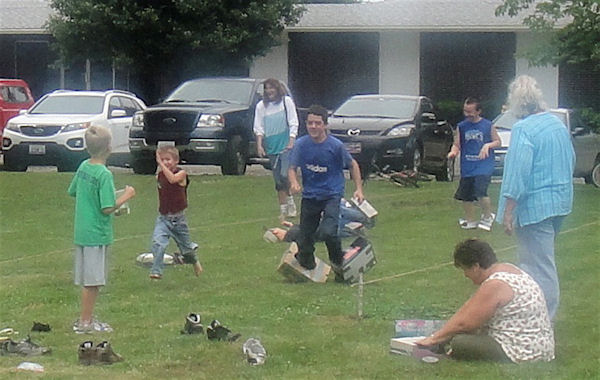 There's nothing like an old fashion picnic in the park with family, friends and good neighbors.
Stronghurst, at their 125th Kick-Off Celebration had it all:fun and laughter, games, horse drawn wagon rides, some good ole foot stomping banjo music, and even some sunshiny weather which all brought back thoughts of the good-old-days.
The Stronghurst 125th Sesequicentennial Committee is trying to create just that and have been working hard to raise funds to plan activities for the year-long celebration that started Saturday.
The day started out looking rainy but by the 1:00 start of vendors in the park and fun and games, it was a successful sunny kick-off celebration.
The good ole fashion picnic at the beautiful Stronghurst park included delicious pulled pork sandwiches with most all facets of the meal donated from the hog by Alan and Kristin Durkee, the processing by David Vancil's Locker, rolling of the pork and tying it for roasting by volunteers, and the roasting by Ross Gullberg and family, and yet others helping to pull the pork and serving the juicy meat at the park.
It was delicious along with potato salad, baked beans, cole slaw, drinks, and desserts for only a donation.
It was a real pleasure to have the great great great grandson of the founder (Joseph Dioxin) of Stronghurst, Gene Dioxin and his wife from Minnesota who came especially for the event.
Gene use to spend his summers visiting his Grandfather and loves the small town and its way of life.
He recalls many happy days here. We will discuss Eugene and the Dioxins in a later article.
Vendors also lined the north street of the park with the senior citizens providing delicious wares at their bake sale.
The Stronghurst City Council had a table of hand-outs and were there to visit with as well.
There were about ten vendors in all including Jessica Doran Booton with her very creative wine bottles melted into a cleaver cracker and cheese tray.
There was homemade items of several who came and kettlecorn being made on the spot as well.
Children were getting face paintings and sitting very still as it was being done by Katrina Sherman and Kylee Hendrickson
The old fashioned games included shoe box relay, batty bowling, and ring toss with Tony Hendrickson, Vickie VanBlair, Kayla Johnson, and Rachael McKoon in charge. Kids enjoyed playground equipment, shooting hoops at the basketball court, playing sand volleyball as adults visited and listened to banjo music.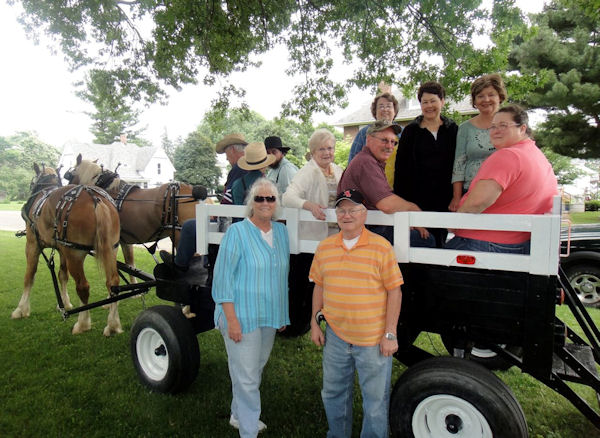 Committee Members for Stronghurst 125th Celebration in 2012 are Vicki VanBlair, Jens Notestein in front and in the wagon fron left seated is Amy Notestein, Jerry Keimig, Chris Vancil. Standing from left Fran Work, Sara Nimrick and Linda Clifton. They are ready to go on a ride in horse drawn wagon the Lee's provided of Roseville.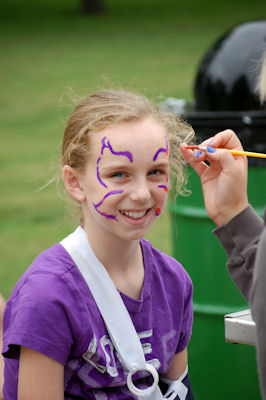 Kylee Hendrickson doing face painting on Reese Avery, daughter of Bobby Avery with his fiancee Amy Fisher.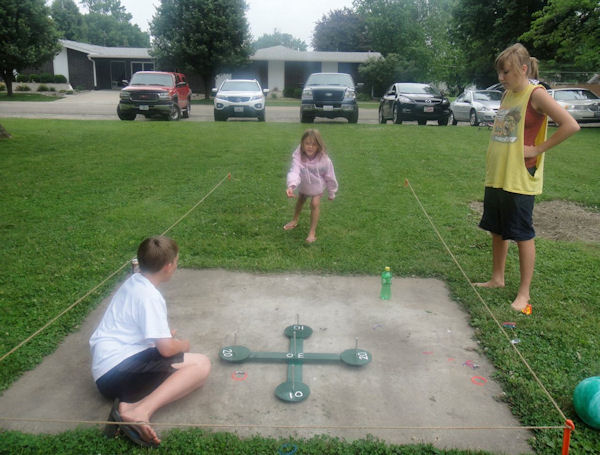 Cameron Wooters having fun and winning a bag of candy after doing all three games of ring toss, bowling and relay.
Kayla Johnson is in charge of the game with Mackenzy Ludington, 7 helping.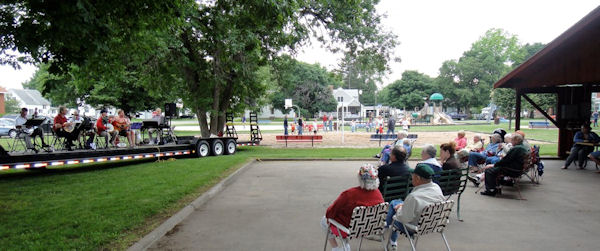 Kids enjoyed playing volleyball on the sand court and on the playground while adults enjoyed relaxing to the popular Banjo music that Denny Overstreet brought to town for the evening.
---