The Hancock-Henderson Quill, Inc.

---
Girl Scout Baby 2011 Honored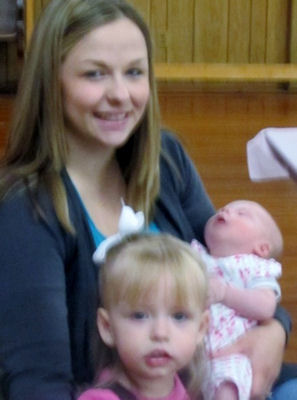 La Harpe: Every year local Scout troops honor the first baby girl born after March 12th.
On Wednesday May 25th, the local Girl Scouts honored this year's 2011 Girl Scout Baby Tinley Jo Covert.
Tinley was born to Brian and Lacey Covert of La Harpe on April 15th. She weighed 8 lbs. 2 oz. and was 19 in. long and was welcomed home by big sister Hayden.
Grandma Stacey Pence and Great Grandma Janice Smith accompanied Lacey, Hayden and Tinley to the baby shower which was hosted by the La Harpe Girl Scout Troop.
Mother and baby received several handmade gifts made by the Scout troops.
They made a baby quilt, an homemade night-light, decorated and tye-dyed onesies, photo frames, a piggy bank, bibs, booties, a scrapbook, and a neat shadow box.
Then the girl scouts and their leaders served cake and punch and enjoyed meeting precious Tinley and her family.
Juliette Gordon Low started Girl Scouting on March 12, 1912.
---