The Hancock-Henderson Quill, Inc.

---
Meet Your Neighbor
by Christy Kienast-The Quill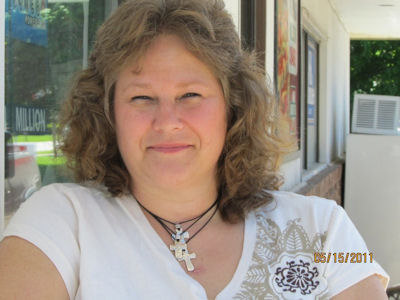 Meet your neighbor Penny "Dowell" Monroe of Blandinsville.
Penny was born to Virgil "Jack" and Edna "Woods" Dowell, at the La Harpe Davier Hospital.
She is the youngest of 9 children with 25 years difference between the oldest and Penny. All of the children were born with the help of Dr. B. I. Mueller, but only 3 of them were born at the hospital.
Pennys' oldest brother is Willis "Bud" Dowell of Lomax, followed by Vivian Dowell Gilbertson (deceased), sister Jackie Dowell lives in Montana, Robert "Bob" Dowell of Burnside, Gail Dowell lives in Montrose, Iowa. Brother Terry Dowell is in Fort Madison, IA. They lost sister Carolyn Dowell in a car accident in 1972 when she was 21 years old.
Then there is brother Michael Dowell who lives in Dallas City.
Penny "s mother came from a large family of 12 siblings who are all deceased, and her father was an only child. Jack passed away in February of 1966 when Penny was not even 3 years old. Pennys' parents grew up during the Depression Era when things were very different.
The Dowell children were raised as if they were still in that era, saying they got spanked for wrong doing and then loved.
Penny was raised in Dallas City and graduated from Dallas City High School in 1981. She attended Robert Morris College in 1981-1982 and got her Associates in Accounting Degree.
She continued her education at Carl Sandburg College for business classes. She learned Japanese and Spanish from classes at Western Illinois University.
Pennys' mother passed away in 1986 and in 1988 Penny moved to Macomb.
Penny and her husband Chad Monroe have been married for 7 years and they reside in Macomb.
Chad has worked at NTN Bower in Macomb for 16 years.
Penny has 4 children. The oldest Dustin lives in Peoria and has a daughter, one year old Savanah.
Daughter Miranda and her husband Steve Huff live in Hawaii with their two sons, Austin and Tyler.
Son Cole lives in Nashville, IL and their youngest daughter Cari lives in Galesburg, where she just graduated from Carl Sandburg College on May 19th with an Associates of Applied Science degree in the RN Program.
Penny has been the manager of the Minit Stop in Blandinsville for almost 3 years.
---