The Hancock-Henderson Quill, Inc.

---
Swears In New Police Chief, Todd Miller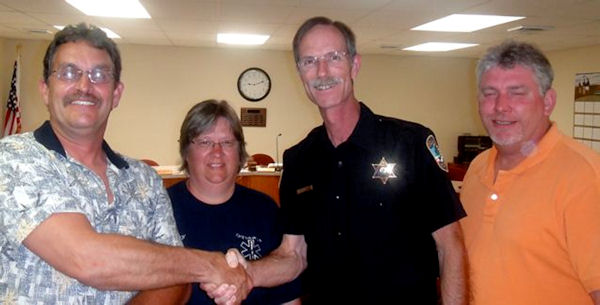 Oquawka Mayor Harold Henshew (left) welcomes Todd Miller, retired State Police Officer, as the village's first new Chief of Police after Monday's night meeting where Miller was sworn into office by Village Attorney Mike Neff. Also pictured are two of their six trustees Nancy Bundy and Todd Shinberger. Other trustees (not pictured) are Jason Howard, Troy Jern, and newly appointed United Methodist Pastor Jeff Robbins, and Cindy Henry of Oquawka. Officer Miller has worked as a police officer for the City of Monmouth, as a county Sheriff's deputy, and 20 years for the Illinois State Police totaling 28 years of service before he retired with the state in 2009. Miller's office will be inside the Oquawka Village Hall on Schuyler Street. He begins his full time duties in Oquawka as soon as the state issues his ORI number which they hope is by June 20. A light brown 2004 Crown Victoria that was donated from the Sheriff's office has been equipped and is being painted with black and white lettering "Oquawka POLICE" and soon will be presented for Miller's squad car.
---