The Hancock-Henderson Quill, Inc.

---
Meet Your Neighbor
by Susan Galbraith, The Quill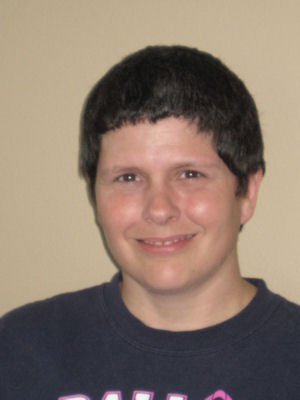 Niven Gray of rural Gladstone was born and raised in White Hall Illinois.
In 1991 she graduated from North Green High School and in 2008 received her BS in Accounting and Finance from Culver-Stockton College in Canton, Missouri.
She is currently employed by Sheakley PaySystems in Burlington, Iowa.
Her mother is Skylia Gooding and lives in Kahoka, Missouri. Her grandparents, who raised her, are Gladys and Henry McCollum. Grandma Gladys lives in Lincoln and her grandfather is deceased.
She has been married to Dan for six years. They have three children. Noah (12) a 7th grade student at Aldo Leopold School in Burlington, Iowa, Halen (10) a 5th grader and Olivia (7) a 2nd grader at West Central School.
Their family loves outdoor sports, especially softball, yard games and celebrate family game nights outside when weather permits.
Niven, a cancer survivor, is the Henderson County 2011 Honorary Survivor and will speak at the Relay for Life on July 29th.
The first time she was aware she had a lump in her breast was the day after her 37th birthday, December 14, 2009, while watching TV with her family. She said, "I am very faithful about doing self-exams." In fact Niven said, "Our cat was probably the first one to detect my lump. He would put his paw exactly on the spot where the lump was."
The next day she telephoned the doctor and after the exam he scheduled her for an ultrasound and a mammogram which then led to a biopsy.
On the 22nd she received a phone call, at work, from the doctor to say her biopsy results had come back from Mayo Clinic in Rochester, Minnesota and that it was malignant. She said, "I went to a private room and just totally broke down. My co-workers could even hear me crying."
The lump grew very quickly to 2 inches in diameter.
Her first surgery was on December 28th when the doctor took a lump and lump node test. On January 8, 2010 she had 13 more lump nodes removed followed by chemotherapy, in February, in Burlington, Iowa.
After that she had genetic testing. During those times she was at several cancer centers for genetic testing. There was never any conclusive evidence on that. The doctors were not able to agree.
But since her aunt had had breast cancer, her grandfather died with pancreatic cancer and her age they felt the genetic testing was necessary.
On August 13, 2010 she was in surgery for 13 hours at Memorial Hospital in Springfield.
The third surgery was done at Memorial Hospital in Springfield. It was a bilateral mastectomy, removal of her ovaries and reconstruction. Her cancer was estrogen based.
Niven said, "It is so important to have a positive attitude. She told her children, "You have to trick your brain. Don't dwell on the negative and be sure to take time and stop and smell the roses".
She said, "My support system was tremendous; my co-workers, friends, and family but my husband was by far the best. He makes me laugh. In fact throughout all of this he made me laugh."
"When it came time to shave my head it was a family affair with my children helping."
"I go back every three months for a checkup and every day is a blessing especially when I look up at the stars they are a little brighter."
Her world has changed and given Niven and Dan a new perspective on each day.
Dan's mom, Vonnie, her sister, Katie and brother-in-law are all in the medical profession which has been a tremendous help to her and Dan.
Niven talked about a vacation they took to Lansing, Iowa where they camped out in a grain bin. They said, "It was very rustic and the grain bin had been made into a cabin. We played games and just enjoyed the time together. It was a very memorable time for our whole family.
They also love going to Aunt Katie's where they enjoy her 5 acre lake, playing with the children, fishing, and watching wildlife. "It is just a neat retreat."
---