The Hancock-Henderson Quill, Inc.

---
TREASURE IN THE HEARTLAND
db Conard, The Quill
It was Memorial Day weekend and early Saturday morning Jim Cook had opened the Henderson County Museum for some photos.
The day after Memorial Day, work on a new roof for the museum would begin. Like a period at the end of a sentence, the new shingles will mean an end to an ongoing threat.
The communities' treasures which because of their age could be easily damaged or destroyed if not protected, would now be sheltered because of the efforts and generosity of many people.
In Raritan, there is a visual history that in a short walk will take the curious mind back to the time of our nation's beginnings.
There is a one room school house that is like a time machine, back before school buses. A blacksmith shop that is complete in every way, horse drawn planters, first cars and trucks, etc.
History has been donated by the neighbors in the county to be shared with others as a legacy that will touch generations to come.
Memorial Day-a time for appreciating the sacrifices of others on our behalf, the ultimate gifts being life and limb, but right there with them is the gift of time, freely given in the service of others.
How about thirty five-years of volunteer time.....thousands of hours away from home and family, compensated only by a "thank you" and a sense of accomplishment.
Jim and Doris Cook should be on the podium as heroes on Memorial Day for their selfless giving that has touched so many people. Now in their eighties, Jim and Doris began in their fifties to help build a museum. What seemed to be a good idea at the time, turned into a life time of commitment that has seen many ups and downs, with the latest up being a new roof..
The down side today--there's still quite a bit of water damage that needs to be put right. But then again, this is just an opportunity for a few more people to discover the same satisfaction that the Cooks have felt in service.
There are lots of people that would be more than capable when it comes to repairing a ceiling or a wall. There are materials sitting in someone's garage that are just going to waste that could be used in restoration. .
Folks would be surprised what just a little bit of interest and service would get them. Satisfaction could be its own reward in the knowledge that what was once a falling down ceiling has again become a showplace for our history into the future.
There is a list of opportunities to be of service at the Henderson County Museum -from people to give tours, someone to run the blacksmith shop, others to restore and maintain exhibits, and yet others to develop resources and much more.
Every moment donated is a terrific alternative to wasted time.
On July 2nd there will be a celebration of 35 years of Henderson County having established a Museum in Raritan. Countless area school children and adults have a perspective of history and our community that they would not have had were it not for the Cooks and other volunteers like them..
What better time to get involved, and to take some of the load off Jim and Doris and other volunteers who have already given so much. All too often it's those who constantly pull the wagon who go unappreciated by others who are content to ride along.
One does not have to go a life time having missed their chance to know the difference in the satisfaction gained by helping these two examples of public service.
But for this past Memorial Weekend, another trumpet call is in order - for Jim and Doris, keeper of the county's Treasures, truly they are our Treasures In The Heartland!
To Volunteer, Call Jim or Doris Cook at Raritan 309.746-6103.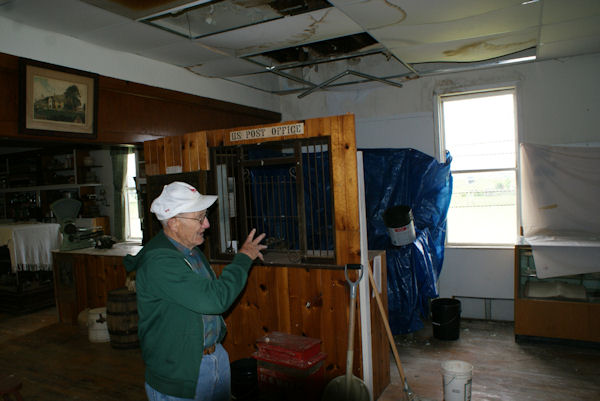 Jim Cook, always busy at the Henderson County Museum, is looking for some volunteers to help out with the county's treasures of the past.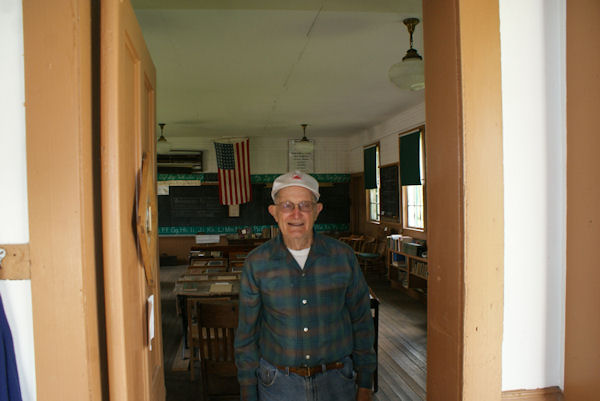 Jim Cook, shows the rain damage to the ceiling of the old school house that covers an old U.S. Post Office window and other treasurers of the past.
---